Man, nobody tells me nuthin'.
Apparently on April 11, Kurt Vonnegut died.
That sucks.
For those of you who aren't familiar with the work of Kurt Vonnegut, I'll fill you in.
Kurt Vonnegut was born in Seattle, Washington sometime ago.
When he was in his 20s, he formed a rock band called "Nirvana."
"Nirvana" is an old Yiddish term that literally translated means "goat coat hanger."
Kurt Vonnegut looked like this---
In addition to being in a band called Nirvana, Kurt Vonnegut invented a kind of music called "Grunge." Grunge was a kind of loud music where people sang about life sucking and being hopeless and what not.
But some of the grunge music was also really fun to listen to!
And that was the kind of grunge music that Kurt Vonnegut made. And people loved him for it.
In addition to making fun grunge music, Kurt Vonnegut also did a lot of drugs and smoked lots of cigarettes, and had unprotected sex with
Courtney Love
.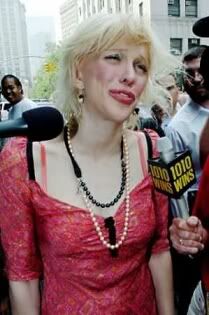 Some guys have all the luck!
As you can see, Kurt Vonnegut was a very busy man. And in his spare time, he had a habit of taking himself waaaaaaaaay too seriously. And sometimes when people take themselves waaaaaaaaaay to seriously and decide that they really don't like themselves, they commit suicide.
And that's what Kurt Vonnegut did. He committed suicide. (Although certain conspiracy people believe that he was murdered. But whatever.)
So, after his suicide/murder thing, Kurt Vonnegut was forced to step back and really think about life and reevaluate things. And that's when he decided to write books!
If you were like me and attended high school at some point, then you know that English classes are there to make you hate books. The reason they want you to hate books is because people who read tend to be able to think for themselves, and that's not good for the government, because the government wants you to do what they say at all times and not question them.
So the government commissions English teachers to come up with THE WORST, most BORING books ever written by anyone anywhere. Then, when students read these books, they say, 'MAN! BOOKS SUCK! I am never going to read again. I'm just going to take tests, and then I'm going to go to college and take more tests and then I'm going to get a job and be like everyone else. JUST KEEP ME AWAY FROM THESE BOOKS!"
Some of these boring authors that I had to read in high school included John Steinbeck, James Joyce, Charles Dickens and F. Scott Fitzgerald.
These authors are known for using way too many words than are needed to tell a story. Apparently when they wrote books, there weren't people called "editors." Because they sure could have used an army of them. These authors also used really old, out-of-date words like "hark" and "cometh", that have no relevance to anything.
(F. Scott Fitzgerald and I actually attended the same high school, but he was 2 years ahead of me so we never actually hung out. We had a couple mutual friends, though, and they would tell me that F. Scott would CONSTANTLY use the words "hark" and "cometh" in conversations and it drove them nuts. Eventually, F. Scott moved to Montana and still lives there today. I here he still writes boring books and is way into tanks.)
Anyway, what I'm saying is that they don't want you reading Kurt Vonnegut books in high school because he's awesome and "awesome" books are not on the school board's agenda.
Around the time that Kurt Vonnegut was writing books, he looked like this---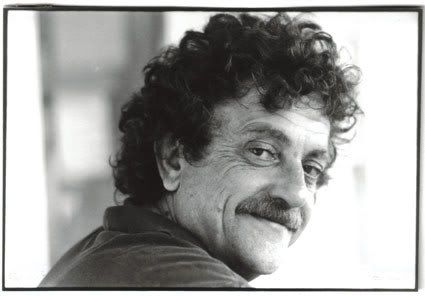 Perhaps his most well-known book is
"Slaughterhouse-5"
. It was based on the time when Kurt Vonnegut was a soldier in Vietnam and was in a Vietnamese prison camp. The book also involves time travel. It rules.
He also wrote a book called "Breakfast of Champions" that features pictures that Vonnegut drew himself! This is probably my favorite book of his because it's a very easy book to understand, and if memory serves, he never uses the words "hark" or "cometh" in the book even one time!
Vonnegut wrote other books as well that also featured words, paragraphs, and sentences. They are all worth checking out.
In addition to being a musician and a writer, Kurt Vonnegut was also an actor, and my favorite role of his was when he showed up in the Rodney Dangerfield comedy
"Back to School"
.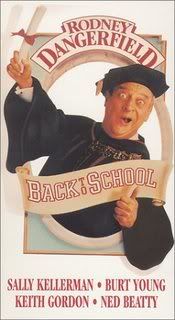 Why he wasn't nominated for an Emmy that year, I have no idea.
So now Kurt Vonnegut has left this planet and that makes The Dotman sad. But Vonnegut also wrote about "other dimensions" and things of that nature, so I'm sure he's kicking it in another dimension and hopefully he's finding some peace and tranquility, because I don't think he found it here.
ON THIS GREAT DAY, DOTSON SALUTES KURT VONNEGUT, FOR FRONTING THE GRUNGE BAND NIRVANA, FOR HAVING UNPROTECTED SEX WITH COURTNEY LOVE, FOR WRITING BOOKS THAT AREN'T BORING AND SHOULD BE TAUGHT IN HIGH SCHOOL, FOR NOT USING WORDS LIKE "HARK" AND "COMETH" IN HIS WRITINGS, FOR BEING IN THE MOVIE "BACK TO SCHOOL" AND FOR TRYING REALLY, REALLY HARD TO MAKE SOME SENSE OUT OF THIS CHAOS WE CALL "PLANET EARTH."
Say what you want about God, but God created Kurt Vonnegut, and that's pretty rad.
Chris Dotson