6/7/07
This isn't going to be easy.
What I'm about to attempt to do is get to the bottom of why
Geminis
behave the way they do.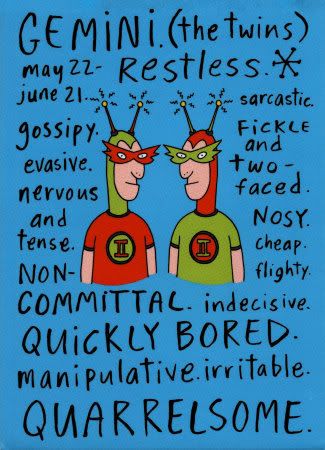 I'm sure all of you have come across a Gemini at some point in your life. They're easy to identify because they talk a lot. And the two topics they generally talk about are the medication that they're on and how many people they've slept with.
But there's so much more to Geminis than just insanity and kinky sex!
And to understand what makes a Gemini tick, let me first share with you the origins of the Gemini.
Geminis were invented by a secret sector of the United States Government back in 1953. The orders to create Geminis came from then-president Harry S. Truman.
Prior to ordering the invention of the Gemini, Truman was best known for belching ALL THE TIME and not wiping his feet before entering the White House. This guy totally sucked. And in an attempt to save face with the American Public (his approval rating at the time was a measly 0.32%), he decided to invent a new astrological sign.
When Truman unveiled his new "Super Sign", he informed the American People that these new Gemini things would "scare the bejesus out of the Commies". (Remember, at the time there was a "Cold War" taking place between the U.S. and the Soviet Union in which the two nations didn't talk to each other. They didn't hang out on the weekends and go shopping or anything. It was way passive-aggressive.)
The American Public were blown away by this new astrological sign. The Geminis proved to be amazing conversationalists. They NEVER stopped talking. Even in their sleep! They talked in their sleep! NO ONE talked in their sleep prior to Geminis. NO ONE! Not even Libras!
And when the Geminis weren't talking, they were having sex! And they were REALLY good at it, too! Everyone who had sex with a Gemini swore that it was truly a rewarding experience. And these Geminis kept sexing it up like it was nobody's business and just kept on multiplying and multiplying, and before you knew it, there were just as many Geminis out there as there were other signs!
And even more than that, the Geminis truly DID end Communism, because in 1989-- only 36 years after Geminis came into existence-- the Berlin Wall came down and that marked the end of Communism!
YEAH, GEMINIS!!!
It's no surprise that the wall came down so quickly, because by their nature, Geminis are very QUICK. Their minds works super fast.
Check this out:
In astrology, each sign has a "ruling planet" and it is said that the sign takes on traits of that planet. Dig it? So Sagittarius's ruling planet is Jupiter, Capricorn's is Saturn, Pisces's is Neptune, etc.
Now, when Harry Truman invented Geminis, all the planets were already assigned to different signs. So what Truman did is he took the planet Mercury (which was already assigned to Virgo) and said he was going to make Mercury the ruling planet of both Virgo AND Gemini.
As you might imagine, this pissed off a lot of Virgos, who are naturally kind of pissed-off already and they rebelled and threw things at the White House. Then all of the rebelling Virgos were rounded up and sent to these secret prison camps in the Atlantic Ocean. No one knew about the existence of these camps for years and years. It was a really ugly time in American History.
Fortunately, that kind of stuff never happens today.
I'm getting sidetracked, which is GREAT because Geminis get sidetracked all the time. ALL THE TIME!!
And the reason they get sidetracked is because of the planet Mercury.
Mercury looks like this:
In real life, the planet is much larger than this picture, but you get the idea.
And Mercury affects COMMUNICATION. That planet is all about thinking. It's all about the mind and talking and writing and all that kind of useless stuff that they make you do in school.
That's why Geminis are always talking! Because they can't stop THINKING!
It's really tough for them, too. All that thinking. That's why they attempt to escape from their mind by drinking and screwing everything the come into contact with. They're just looking for some relief, yo!
So next time you see a Gemini, don't run the other way. Go up to them and give them a hug and tell them that you're sorry they have to think so much. And if the Gemini hugs you back, just make sure they keep their hands out of your pants, otherwise THEN it's a good time to run the other way.
As you might have read at the start of this blog, this is only Part 1 of the Gemini Salute. How many parts will it take? I don't know. It's frickin' Gemini, you know? It could take me the rest of my life. I mean, there are TONS of things I haven't even begun to talk about when it comes to Geminis.
For example:
1. The reason that all Gemini women wish they had penises and why all Gemini men wish they had vaginas. (It's not the reason you'd think!!)
2. Why Geminis fight.
3. Why Geminis are some of the worst drivers on the road
4. Why a Gemini will never, EVER place a "Welcome" mat oustide their front door.
5. Why all Geminis - male and female- have extensive leg warmer collections (I'm not sure if even I know the reason for that...)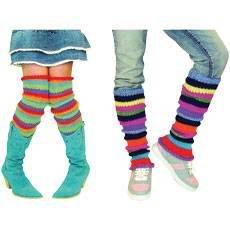 6. Why the Dalia Lama doesn't meditate during Gemini
And many, many other things, including speaking about Gemini celebrities. (Celebrities are SOOO F-U-N!!! I CAN'T WAIT!!!)
But until I recoup and have my strength up for another go-round with Gemini, let's take a trip down memory lane and once again watch my now-famous "Gemini Impersonation" video, which seems to be especially popular with Scorpios.
(Or if the video won't work here, you can watch it on YouTube
here
.)
ON THIS GREAT DAY, JUNE 7, 2007, DOTSON SALUTES THE ASTROLOGICAL SIGN GEMINI FOR BEING MORE THAN JUST INSANE AND INTO KINKY SEX, FOR BEING INVENTED BY HARRY TRUMAN, FOR ENDING THE COLD WAR, FOR THINKING WAY MORE THAN IS NORMAL FOR ANY HUMAN BEING, AND FOR BEING SO DAMN FASCINATING THAT THEY COULDN'T POSSBILY BE SUMMED UP IN ONE SINGLE BLOG.
OH, DOTSON ALSO SALUTES GEMINIS FOR HAVING EXTENSIVE LEG WARMER COLLECTIONS.
Am I jealous of their leg warmer collections?
You bet your ass I am.
And one more thing-- I want to wish a very happy birthday to my Gemini friend
Kirsten
. She is the only Gemini I've ever known who let me touch one of their leg warmers, and for that, Kirsten, I will cherish you for eternity. And I will also buy you some ice cream next time I see you. Even Pistachio flavored.
Chris Dotson