Today's salute goes out to Bob Mother-Effin' Barker.
He is the host of a cable access game show called
"The Price is Right."
, and from what I understand from Yahoo headlines, today is the very last episode of the show.
And whenever there's a LAST of ANYTHING on this planet, it's a big deal. It's a REALLY BIG DEAL!
Bob Mother-Effin' Barker was born on December 12. That makes him a Sagittarius. Sagittarians are known for being completely irresistible to women, for never dying, and for being incredible game show hosts.
But even though he was born under the best sign of the zodiac, success did not come easily to Bob Mother-Effin' Barker. Back in the day, you see, no one wanted to hire a TV personality with the middle name of "Mother-Effin." They felt it was too risqué.
Fortunately, Bob Mother-Effin' Barker hired a publicist and the publicist encouraged him to lose the "Mother -Effin'" and just become Bob Barker.
Bob Barker took the advice and the rest is history!!!
"The Price is Right" is known for giving away prizes to easily-excited contestants who like to win new cars and things of that nature.
In addition to giving out free cars, there's this awesome wheel that people get to spin.
The wheel looks like this--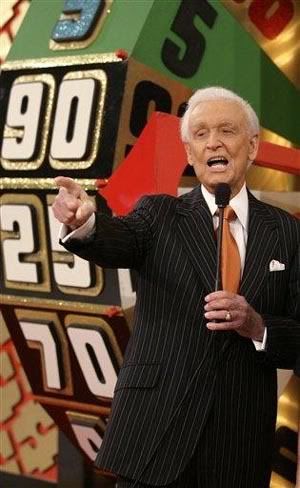 The idea when you spin the wheel is to get as close to a dollar without GOING OVER the dollar. Because if you go over, you have to go home.
But if you have success with the wheel, then you get to be a part of a thing called the
"Showcase Showdown".
This is where things get really exciting!
The Showcase Showdown looks like this--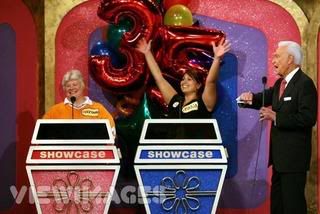 When you make it there, Bob Barker shows you a bunch of prizes and you have to guess the TOTAL AMOUNT of what all the prizes add up to. And whoever guesses the closest (Again, without GOING OVER, because the "Price is Right" hates it when people go over. HATES it!) gets to have all those prizes.
Based on the above picture, I'm assuming the lady on the right won. That's good for her, but it sucks for the lady on the left. Because what happens is that if you lose the "Showcase Showdown", a trap door opens underneath you and you fall into a pit of alligators and they eat you until you stop living.
In other words, you die.
But, hey! Death is a part of life and it's also a part of game shows. No biggie!
Then, after the one person wins and the other person dies, Bob Barker tells everyone to have their pets "spained" and "noodered."
I've never understood what that meant.
(Actually, I just looked up "spained" on the world wide web, and the definition for it was so disgusting that I'm not going to post the link to it. It's REALLY gross and it involves oral sex. Do not look up the definition. You'll regret it. God, WHY would Bob Barker tell people to spain their pets??? It's just cruel. Man, Bob Barker has some demons, dude. Big time demons. And what about "noodered"? I'm too afraid to find out what that means after looking up "spained.")
Anyway, in addition to giving away prizes and holding an incredibly long, thin microphone, Bob Barker is IRRESISTIBLE to the opposite sex.
You see, whenever women are on the show, they always kiss him on the cheek. EVERY SINGLE ONE OF THEM!
They can't help themselves when they get around Bob Barker. They just need to touch him and rub themselves on him and stuff.
But that's what happens when you're a Sagittarius. Women are constantly (CONSTANTLY!) clawing at you and trying to get you to do sexual things with them.
Like any TV show that's worth it's salt, "Price" had a bit of a scandal a while back. I guess Bob Barker was sexing it up with some of the "Beauties."
The "Beauties" are these hot chicks on the show who stand by the prizes and point at them.
Here's a picture of "The Beauties" right here, celebrating Bob Barker's 6,000th Birthday--
Because of that scandal, Bob Barker decided to step away from the "Price is Right" and become an actor.
His most notable acting job was when he appeared in the hilarious comedy "Gilmore Girls" with Adam Sandberg and he has a scene where he beats Sandberg up.
But eventually Bob Barker went back to the "Price is Right", told the "Beauties" to stop hitting on him, and they all agreed that they would keep it in their pants and focus on giving away prizes to insane contestants and telling people to spain their pets.
The end.
ON THIS GREAT DAY, JUNE 15, 2007, DOTSON SALUTES BOB "MOTHER-EFFIN'" BARKER FOR RETIRING FROM "THE PRICE IS RIGHT", FOR BEING A SAGITTARIUS, FOR GIVING AWAY PRIZES TO NUTSO CONTESTANTS, FOR TELLING PEOPLE TO SPAIN THEIR PETS, FOR BEING IRRESISTIBLE TO THE OPPOSITE SEX, FOR HAVING A SCANDAL WITH "THE BEAUTIES", FOR BEATING UP ANDY SAMBURN IN A COMEDY ABOUT GOLF, AND FOR KNOWING CHUCK NORRIS.
Yup, there they are--- Bobby B. and my close, personal friend, Chuck Norris.
Now that Bob Barker is retired, I think Chuck Norris should become the new host of the show, and they should change the name from "The Price is Right" to "Chuck Norris is Right".
I also think I did an incredible job cleaning my bathtub today.
Chris Dotson