Today's salute goes out to the weather.
Have you ever heard of this stuff?? It's awesome!
I'm relatively new to this whole weather thing, but apparently it's been going on for a long time, like over 50 years!!
I don't know how I went through life this long without hearing about weather, but then again, I only learned how to tie a tie 2 months ago, so what do I know??
Here's how I came to learn about weather.
I was at a stoplight waiting to cross the street and this old lady with a cane walked up to me and said, "Lovely weather we're having, huh?"
I didn't know what the hell she was talking about! I assumed she was a drug dealer and this was her way to get me to buy drugs from her. And my parents always told me that if I was offered drugs that I should give the drug dealer the finger and tell them "shove it up yo ass!"
So that's what I did. I gave the old chick the finger big time and then I told her where to shove her drugs. (Up her ass.)
Then I ran home as fast as I could because I didn't know if the old drug dealer lady was maybe going to chase me.
When I got home, I decided to do some research on this drug she was selling called "weather." I typed it in to my computer, and this was the definition I got---
"Weather is the specific condition of the atmosphere at a particular place and time. It is measured in terms of such things as wind, temperature, humidity, atmospheric pressure, cloudiness, and precipitation. In most places, weather can change from hour-to-hour, day-to-day, and season-to-season. Climate is the average of weather over time and space. A simple way of remembering the difference is that climate is what you expect (eg cold winters) and 'weather' is what you get (eg a blizzard)."
AHA!!! So weather isn't drugs at all. Weather's the stuff that's going on when you go outside.
SO THAT'S WHAT IT'S CALLED!!!
I always used to refer to weather as "outside".
So I'd say to someone something like, "Man, it sure is some hot outside we're having today!" Or "Can you believe this outside? Yesterday it was bright and today it's really dark and there's wet stuff falling from the sky! Crazy outside, man. Just crazy!"
And whenever I said this stuff, I realized people would give me a funny look. I didn't think I'd said anything wrong, I just assumed that they'd seen my
"Gemini Impersonation" Video on YouTube
and that's why they were looking at me so strange.
But now I know that "outside" is "weather."
Weather comes in various forms, too.
Sometimes weather looks like this---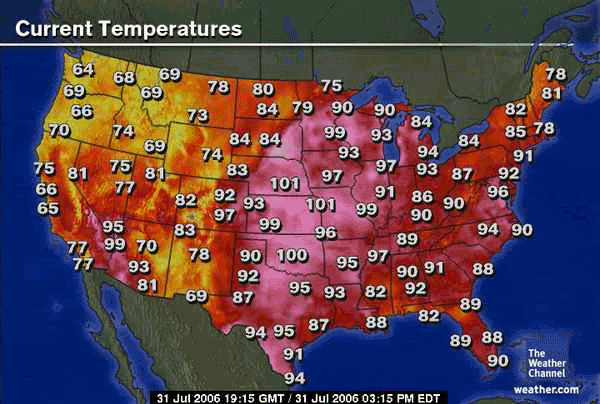 And other times it might look like this---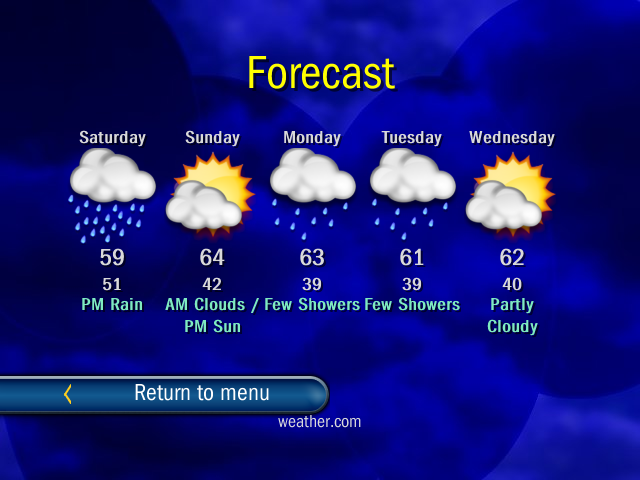 And ALSO I found out that on your TV, if you watch the news, the news devotes a significant portion of its show to talking about the weather.
WHO KNEW??
It's truly incredible. And the best part is that all of this weather is FREE and it's available 24 HOURS A DAY--- even in Alaska and Belgium!!!
Now I feel kind of bad about giving that old lady the finger. But I'm telling you, she TOTALLY looked like a drug dealer.
TOTALLY.
ON THIS GREAT DAY, JUNE 14, 2007, DOTSON SALUTES THE WEATHER FOR BEING AWESOME, FOR BEING IN EXISTENCE OVER 50 YEARS, FOR NOT BEING DRUGS, FOR TAKING VARIOUS FORMS, AND FOR BEING AVAILABLE 24 HOURS A DAY- EVEN IN ALASKA AND BELGIUM.
Weather frickin' rocks, dude.
Chris Dotson