---Today's blog features BIG pictures---
I'm not a health nut, but sometimes I get the hankering to eat a healthy meal.
So when I get that feeling, I hit this place called
In-N-Out Burger
. They have way healthy french fries and burgers and chocolate shakes. Their food is way healthier than McDonalds or Burger King, so next time you're on a diet, be sure to eat plenty of In-N-Out Burger.
Check it out---
So I'm sitting in the parking lot of In-N-Out Burger, eating my healthy cheeseburger and sipping on my healthy chocolate shake and listening to sports talk radio.
Then all of a sudden-- OUT OF NOWHERE--- two chicks totally descended upon my Saturn and they made NO SOUND-- no sound at all!
Then they started trying to push this car wash thing on me, saying that if I gave them $5, they would wash my car. They could tell I wasn't that interested, so they played the "fundraiser" card and said it was for the cheerleading squad or something.
I told them that $5 was more than I paid for my entire car.
My car looks like this---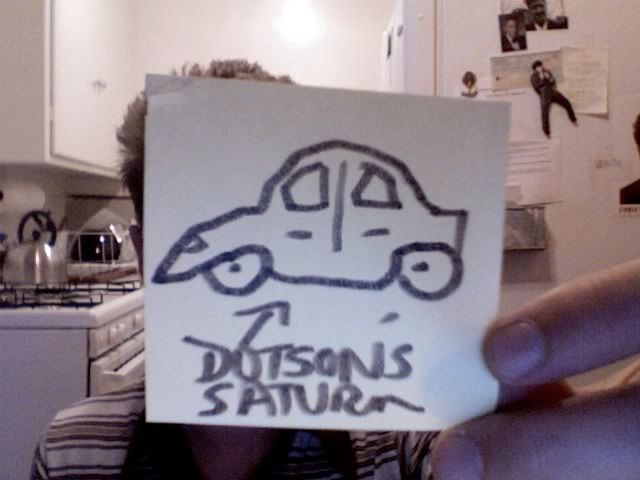 I told them that I paid only $3 for my car. They started to smile, like they thought I was making a joke, but I just stared them down without the slightest hint of humor (like I worked for the government or something!) and they kinda got weirded out and moved on.
I sat there for a couple of minutes, proud of myself for having weirded out two Hollywood teenagers, but then it dawned on me--- I really COULD use a car wash!
So I chased down the two girls and gave them $5 and told them I would like my car washed immediately.
They gave me this yellow ticket and told me the wash wasn't being held until this weekend (at the parking lot of a TACO BELL no less!) and I'd have to wait until then.
AHA!!!!
I knew there was a catch!!!
And they waited until they had my $5 before telling me I'd have to WAIT for the wash.
THAT'S HOW THEY GET YOU...
Anyway, whatever. It's for charity, right? Plus, I took a closer look at the ticket and saw these two girls couldn't even spell very well so my heart immediately went out to them. And I realized that I could wait three or four days to have the car washed.
I would have loved to have gotten my car washed on Saturday, but I spent the afternoon with my Taurus contractor buddy who helped me hang curtains in my living room, so I didn't roll over to the wash until Sunday.
When I got to the Taco Bell parking lot, I expected to see balloons and young girls jumping up and down on the sidewalk, holding up signs advertising that there was a car wash going on!
But there wasn't any of that.
In fact, at first I thought the whole car wash thing was a sham. I didn't see ANY activity in the parking lot. I'd gotten screwed over by a fake car wash YET AGAIN!! When would I learn???
Then I noticed five young ladies sitting in the corner of the parking lot, huddled around an SUV. I drove over to them and one of the girls got up and said, "Are you hear for the car wash?"
I told her I was.
She proceeded to hand me this piece of paper---
She told me that the car wash had been postponed. I asked her if could keep the piece of paper that she had just given me and she said I COULD!!!
So to me, that was worth $5 right there!
Then she hands me this Taco Bell coupon and tells me that because of the inconvenience, they're giving me this coupon for $1 off ANY value meal. ANY VALUE MEAL!
(Later when I got home, I took a closer look at the coupon and as you can see, it looks like I get a FREE value meal. Not just $1 off, but EVERYTHING off!!!)
And not only that, they took down my phone number and told me that they would give me a call, because in addition to the free piece of paper and the free Taco Bell Value Meal, apparently I still get to have my car washed!
God bless America, motherf%ker!
ON THIS GREAT DAY, JULY 30, 2007, DOTSON SALUTES POSTPONED CAR WASHES FOR BRINGING IN MONEY FOR UNDERPRIVILEGED CHEERLEADERS WHO AREN'T GOOD AT SPELLING THINGS, FOR GIVING PEOPLE FREE PIECES OF PAPER AND FREE TACO BELL VALUE MEALS WHEN THEY GET CANCELED, AND FOR REINVIGORATING DOTSON'S BELIEF IN THE GREATNESS OF AMERICA!!!
And the best part is that Taco Bell is healthy, too! It's not as healthy as In-N-Out Burger or anything, but it's still pretty healthy. Organic, too.
Chris Dotson