Have you ever been to Canada?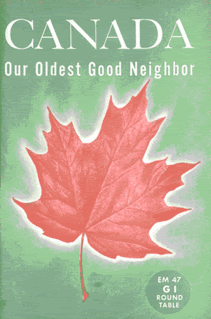 Well, before last week, I hadn't!!!
I hadn't even heard of the place. But apparently it's another country that's different from the United States.
Now, I know what you're thinking--- "WHAT??? There's other countries out there besides the United States???? Get the f*%k OUT!!!"
No, dude. I'm totally serious. There's other countries out there. There's like at least four or five others. And some of those countries the United States even BOMBS!! It's insane, yo!
But apparently Canada isn't one of the countries that the United States bombs. At least I didn't see any bombs while I was there. Of course, they might have been there. I wasn't really looking.
It's not like I'm SEAN frickin' PENN!!!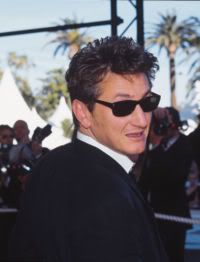 (Is that Sean Penn or Robin Williams? I can't tell.)
But this blog isn't about the other countries that exist that the United States may or may not be bombing.
This blog is about MONEY and POWER.
Or at the very least, it's about a shitload of water.
You know what this is?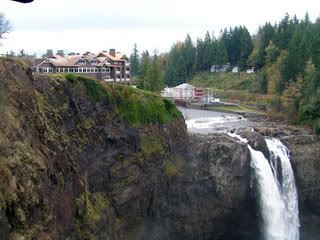 That's right. It's a waterfall. They call it that because there's water and it falls.
This particular waterfall is called "Snoqualmie Falls", which is pronounced "Snoqualmie Falls."
Fans of the television show
"Twin Peaks"
will recognize this waterfall from the series. Because pretty much in every episode they showed this waterfall. That's why people will recognize it.
And if you aren't familiar with the TV show "Twin Peaks", I'll tell you what it was about.
See the sign in the above picture?
It was about that sign on the side of the road that read "Welcome to Twin Peaks" and the sign went around killing squirrels and handing out business cards to people even though they hadn't requested them.
CAN YOU BELIEVE THAT??? A sign handing out business cards to people who DIDN'T EVEN WANT THEM????
It was groundbreaking television at the time.
The other thing about Snoqualmie Falls was that they were made SPECIFICALLY FOR the show "Twin Peaks." Straight up. They didn't even EXIST before the show.
What happened was that the guy who created the show "Twin Peaks" was named David Lynch and he demanded that a waterfall be built SPECIFICALLY for the show.
David Lynch looks like this--
So David Lynch was all like, "Yo, I needs me a damn waterfall pronto. I straight up demand it, sucka!!!"
And you know what happened?
THE TV STUDIO BUILT HIM A WATERFALL!!!
And you know WHY they did it?
Because David Lynch is a DIRECTOR and when you're a director, you can demand anything you want, (ANYTHING!!) and people just give it to you. It's awesome, man. I don't know why all of us aren't out there directing movies and TV shows.
Think of all the waterfalls we could create!
Anyway, so David Lynch demanded the waterfall and the studio said "okay" and even though it took 7 production assistants nearly 24 hours to build the falls and it was totally slapped together last-minute, I think the falls are amazing.
And that's why not only "Twin Peaks", but also Snoqualmie Falls, live on in our hearts and minds forever.
EVEN IN SEAN PENN'S HEARTS AND MINDS!!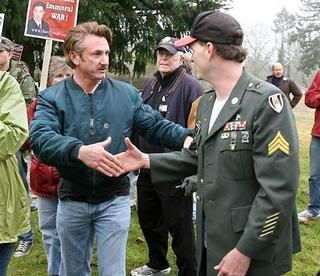 (Is that Sean Penn or Robert DeNiro in "Jackie Brown"? I can't tell.)
And this is a picture of me at the Falls. I went there. They're not in Canada. They're in a city called "Watchingtun", which is right next to a Jiffy Lube.
Are we still in Cancer?? Are we STILL in Cancer???
ON THIS GREAT DAY, FRIDAY THE 13TH OF JULY, 2007, DOTSON SALUTES SNOQUALMIE FALLS FOR BEING A WATERFALL, FOR NOT BEING IN CANADA, FOR BEING IN THE SHOW "TWIN PEAKS" LIKE ALL THE TIME, FOR BEING DEMANDED INTO EXISTENCE BY DAVID LYNCH, FOR HAVING BEEN BUILT BY 7 PRODUCTION ASSISTANTS IN 24 HOURS, AND FOR LIVING ON IN THE HEARTS AND MINDS OF SEAN PENN.
DAMN, I wish I had a burrito right now!!
You know?
Chris Dotson