It's time for a little FONK.
So girlfriend and I were in the town of Seattle last week, driving down a freeway and off to the side there was a strip mall and one of the storefronts read in big, huge letters:
VERN FONK INSURANCE
I pointed it out to girlfriend and said to her, "Vern Fonk is perhaps the greatest name I have ever heard. When we get back to the greatest city on earth (L.A., of course) I am going to salute Mr. Fonk."
And so that's what I'm doing.
Before we go any further, I want you to get a taste for the Fonk. This isn't your typical run-of-the-mill insurance company. It turns out this is the craziest insurance company ever known to man! Here is one of their zany TV commercials to show you what I'm talking about---
(Or you can watch it
here
.)
Okay, have you watched the commercial?
Good. Now, I just have one question---
WHAT the HELL was THAT??????
That was some weird-ass jive that you do not normally see in an insurance commercial. That sure as hell was not Dennis ("Don't call me 'Cerrano' from 'Major League' or I punch you in the face!") Haysbert standing in the middle of traffic saying "That's Allstate's stand." That was... what WAS that???
Here's another one of their commercials--
This one is a spoof of Steven Spielberg's cult hit "Napoleon Dolemite".
(Or watch it
here
.)
Now you might be wondering, who IS Vern Fonk?
Well, Vern Fonk looks like this---
And apparently he passed away in June of 2006. You can read his obituary
here
. As you might imagine, the obituary states that Vern Fonk "loved jokes."
After his passing, Fonk's daughter took over the company and I guess people asked her if she was going to continue to run those funny/bizarre/strange commercials and she said, "We've got more dumb ones coming your way, believe me." (She really did say that. Check out the obituary already if you don't believe me.)
I guess because he appears in so many Vern Fonk Insurance ads, people often think that actor Rob Thielke is actually Vern Fonk at first. I know I did!
Thielke has appeared in a slew of the Fonk spots, including many, many more funny and just downright weird commercials that can be viewed on the
Vern Fonk Website
.
So my advice is to go to the website and view all of the videos. Love them, cherish them, and name your first-born child after them.
That's my advice. It's not an order, it's just advice.
And next time you're in the Seattle area, remember to honk when you drive by Vern Fonk!!!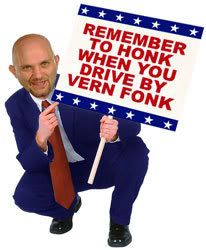 I know girlfriend and I will. We'll honk like 5 or 6 times at least. MAYBE EVEN 9!!!!!
ON THIS GREAT DAY, JULY 16, 2007, DOTSON SALUTES VERN FONK INSURANCE FOR HAVING THE GREATEST INSURANCE COMMERCIALS EVER MADE AND FOR GIVING DOTSON AND HIS GIRLFRIEND A REASON TO HONK NINE TIMES NEXT TIME THEY'RE IN THE SEATTLE AREA.
DOTSON ALSO SALUTES ROB THIELKE FOR BEING DOWNRIGHT WEIRD AND FOR CAUSING PEOPLE TO THINK THAT HE'S VERN FONK. DOTSON ALSO ALSO SALUTES THE REAL VERN FONK FOR LOVING JOKES, FOR HAVING AN AMAZING SENSE OF HUMOR AND FOR ACTUALLY MAKING INSURANCE FUN!
Did I just write that? "Making insurance fun"????
Vern Fonk was a miracle worker, man. A miracle worker.
Chris Dotson