Considering the number of Minneapolis-related folks who read this blog, it would be odd for The Dot to not acknowledge the bridge collapse yesterday. Like most people I feel pretty helpless right now and can only hope and pray for the families that lost loved ones and hope that everyone who was injured recovers fully.
I can't do more than provide a distraction from the sadness with my silly blog, so if you're reading this then you probably came here for a distraction in the first place. If you're not up for some levity today then the Dot wholly understands. Come back whenever you want. I'll be here. (And so will "The Dotman"--- that S.O.B.)
I have a feeling this could be a long blog entry, so be prepared, or just stop reading now and use the time constructively by making yourself a microwave tamale.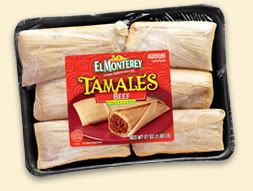 THOSE THINGS ARE DELICIOUS!!!!
Last night I went to a Dodgers game with my Taurus contractor buddy.
Dodgers games look like this---
But this wasn't no ordinary Dodgers game, my man. The GIANTS were in town. See, the Dodgers don't get along very well with the Giants. In fact, they're arch rivals and don't see eye-to-eye on anything and don't ever meet the other party half way on anything.
They're kind of like Democrats and Republicans!
So these two teams don't like each other. So there's that. Then there's this other thing.
There's this baseball player on the Giants named
Gary Bonds
.
Gary Bonds looks like this---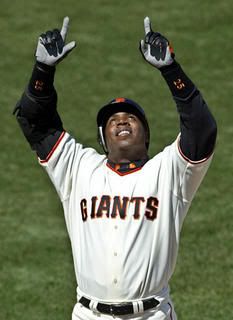 In addition to pointing to the sky with both hands whenever he sees an airplane and shouting out "Ao-plane" like a toddler, Gary Bonds is closing in on becoming the All-time home run king! He only needs 1 home run to tie the record and 2 to break it!!
That means he's about to hit more home runs than any baseball player ever!!!!
More than Babe Ruth, more than Hank Aaron, and more than Michael Jordan!!
That's pretty select company.
And the other thing is, when he hits that home run into the stands, whoever catches it can sell it for millions of dollars on eBay or something.
So my friend and I went to this game not only to see the Dodgers win, but hopefully to catch the Barry Bonds home run ball that would tie the record, and if he were to hit a second home run, to catch that one as well because it would be worth even more money!
Our tickets were in the right field section of Dodger Stadium. But the right field at Dodger Stadium isn't like other stadiums. Because at Dodger Stadium, if you sit in right field, you can eat ALL THE FOOD YOU WANT FOR FREE!!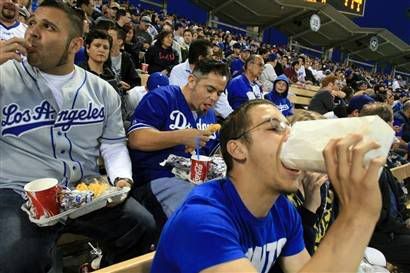 Say what????
Straight up, yo. Would The Dot lie to you?
Here's the article about
All-You-Can-Eat Dodger Games
right here.
So me and my friend got to the game 1 hour early just in case they were going to run out of food or something. We stocked up, yo!
Here's what I ate--
1 Dodger Dog
1 Diet Coke
1 Popcorn
1 Peanuts
1 Nachos
2 bottles of water
1 Ice Cream Cup
I could tell you what my Taurus contractor friend ate, but I don't think he'd want me to. It's not like he ate an embarrassingly large amount of food or anything, it's just... okay, yeah, he ate loads of food. But he's a Taurus, and Tauruses devour, so considering his Astrological Orientation, my friend showed quite a bit of restraint so I salute him for that.
Anyway, Gary Bonds didn't hit any home runs last night and I have to say I'm kind of glad he didn't. The anticipation every time he came up to the plate was crazy!! It was like being at Game 7 of the World Series or at
Pink's Hot Dogs
at lunch time on a Saturday!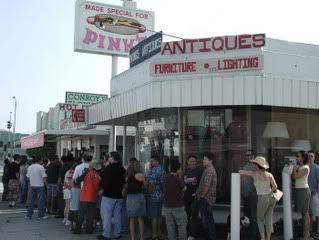 Whenever Bonds came to the plate, people would get up from their seats and walk down closer to where me and my Taurus contractor friend were sitting and crowd around us and start pounding their baseball mitts that they brought to the game in hopes of catching the Bonds homerun ball. To some of these people, catching that ball was their retirement plan! You could tell they really wanted that damn thing and were going to scratch and claw and beat up anyone who got anywhere near it.
But like I said, fortunately Bonds didn't homer and we didn't have to deal with that insanity.
But we did get to eat A LOT of food!!!
And we got to see several fans get kicked out over the course of the game, because many Dodgers fans and Giants fans became unruly from time to time and threw things at one another and shouted curses.
It's too bad for the angry Dodgers fans who got kicked out because the Dodgers rallied in the bottom of the 8th inning on a home run by Norman Garciaparra (who apparently saw an "ao-plane" himself) and ended up winning the game!!!
It was awesome.
And not only that, but my Taurus contractor buddy bought a Dodgers baseball hat from a homeless guy prior to the game for only $10 and at the end of the game, my friend he decided he wanted me to have it instead, so he GAVE it to me for FREE!!!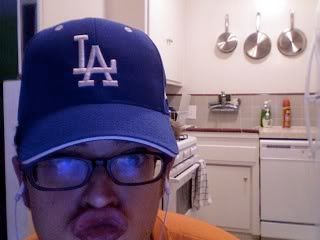 That's what I'm talkin' about!!!
ON THIS GREAT DAY, AUGUST 2, 2007, DOTSON SALUTES "ALL-YOU-CAN-EAT" DODGERS GAMES FOR ALLOWING PEOPLE IN RIGHT FIELD TO STUFF THEIR FACES WITH TERRIBLE FOOD FOR FREE, FOR NOT HAVING GARY BONDS HIT A HOME RUN AND THEREFORE SPARING DOTSON THE POSSIBILITY OF BEING TRAMPLED BY A CRAZY FAN, FOR KICKING SEVERAL FANS OUT OVER THE COURSE OF THE GAME SO THAT THERE WAS ALWAYS SOMETHING FUN TO WATCH EVEN BETWEEN INNINGS, AND FOR PROVIDING DOTSON WITH A FREE DODGERS HAT!!!
Did I mention that the fastener on the Dodgers hat is velcro???
JEALOUS???
(It's okay if you are. It's a natural response.)
Also, as part of my mediation agreement between Doug and The Dotman, I have to promote The Dotman's "Joke of the Day" for at least a week. So here's the Dotman's hopelessly misguided joke of the day for today.
If for some strange reason you want to receive these jokes everyday, just sign up for the Dotman's videos and you'll get an email whenever his latest misguided joke is ready. And if you do sign up for his videos, then God help you.
Also, happy birthday to my Leo sister!!!!!
Chris Dotson