So I'm hanging out at my Scorpio filmmaker friend's place today and we're shooting this little film that involves fake penises he made out of gelatin (Typical Monday for Dotson) and then we go back inside and he tells me that he's got all this bamboo he needs to unload!
The bamboo looks like this---
What happened was, a couple weeks ago, my filmmaker friend and this Capricorn photographer chick got married and they had a wedding. I went to the wedding. It was awesome. And at every table at the wedding, there was a bamboo arrangement, like the one in the above photo. Well, when the wedding was over, they didn't want to throw all that bamboo away, so they brought it home.
But now the bamboo is taking over their lives!
So they gave me a bamboo and I said "thanks" and then I went and got two slices of cheese pizza and a small Sprite for lunch.
While driving home, I remembered that tonight is the night I go to the retirement home and play poker with seniors. And I remembered that one of the seniors, named Mac, has a birthday this Friday.
So I thought to myself, "I'll give the bamboo to Mac!"
I don't have a picture of Mac to post on the blog, but I know that he's turning 91, so what I did was I googled "91 year old" on the world's wide web and got this picture:
This is a photo of a 91 year-old woman named "Hannah." Mac looks similar except that he is male, he's black, he wears a baseball hat and he often has a toothpick in his mouth. But otherwise the similarities are eerie.
So I went home and was looking at the bamboo, thinking what a great gift it's gonna make for Mac, and then I thought I could jazz it up a bit. And the idea popped in my head that what this bamboo needed was one of those little balloons on a stick that the florists put in flowers!
TOTALLY!
I knew it would be easy to find this balloon on a stick, so I ambled (Yes, I AMBLED for the first time in AGES!!!) down to the grocery store to pick one up.
Thing was, the grocery store had balloons on sticks, but they were kinda big and they would have dwarfed the bamboo.
Fortunately there was a florist in the strip mall next to the grocery store. I'd never been in there before, but I figured they'd have the balloons. So I walked over there (didn't amble this time), only to find that they were out of business!!!
Those poor bastards! That sucks to go out of business. I actually felt compelled to sell the out-of-business florists flowers. But I didn't know where to send them, and I didn't know if they'd accept the flowers without a balloon.
All of a sudden, I was on a MISSION to find a little balloon on a stick. So I hopped in my car and this time drove to a nearby pharmacy. Struck out again. Then I walked to the grocery store across the street. Again, nuthin'.
Got back in the car and continued down Sunset and found a florist! Awesome. They'd totally have little balloons!
Nope. They didn't have them, either. I almost broke down in front of the florist who was such a sweet lady. I told her what I'd been going through over the past 107 minutes. She totally empathized with my situation and told me these balloons "just aren't as popular as they used to be."
NOT AS "POPULAR"??? WHAT THE F*&K KIND OF COUNTRY DO WE LIVE IN?
THIS IS AMERICA????? THE RICHEST COUNTRY IN THE WORLD, AND YET A YOUNG WHITE MALE IN GOOD HEALTH CAN'T GO OUT AND EASILY FIND A LITTLE BALLOON ON A STICK TO GIVE TO A MAN TURNING 91 ON THURSDAY???
MY F$%KING ASS!!!
WAY TO GO, GEORGE BUSH! I HOPE YOU'RE HAPPY!!!!
ALL YOU A-HOLE POLITICIANS NEED TO STOP DICKING AROUND AND WAKE THE HELL UP!!!
I'M TELLING MICHAEL MOORE!!!!!!
AND I'M GOING TO START AN EMAIL PETITION!!! JUST WATCH ME!!! I'M GONNA PETIT ALL OF YOU BASTARDS!!!
Okay, I've calmed down. It's perfectly okay to rant during Leo, though. In fact, it's encouraged!
:)
Anyway, so after delivering the bad news to me, the florist did suggest I try Longs Pharmacy.
Longs Pharmacy!! I was thinking about going there, anyway. Plus, I know they have one-hour validated parking.
Things were definitely looking up!
I got over to Longs and went right for the card aisle and found... NO balloons on sticks.
I fell to my knees and sobbed hysterically for what I'm told was roughly 20 minutes (Again, typical Monday for Dotson.)
Then the security guard lifted me up and suggested I just purchase a little bow to put on the bamboo.
I decided this was a lovely idea.
So I bought a red bow and now the bamboo looks like this---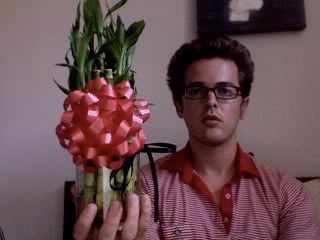 Mac sure as shit better like his gift.
ON THIS GREAT DAY, AUGUST 14, 2007, DOTSON SALUTES LITTLE BALLOONS ON STICKS FOR BEING INSANELY DIFFICULT TO FIND IN LOS ANGELES, FOR MAKING DOTSON SOB FOR WHAT HE IS TOLD WAS 20 MINUTES, FOR INSPIRING DOTSON TO TAKE A STAND AND PETIT HIS COUNTRY'S POLITICIANS WITH AN EMAIL PETITION, AND FOR NOT BEING ALL THAT INTERESTING, BECAUSE I NEVER REALLY LIKED THEM ANYWAY. I WAS JUST PRETENDING TO LIKE THEM. WHATEVER. LITTLE BALLOONS ON STICKS. LIKE THEY'RE ALL THAT. I DON'T NEED NO BALLOON ON A STICK TO CELEBRATE A BIRTHDAY PROPERLY. WE CAN HAVE ALL KINDS OF GREAT BIRTHDAY PARTIES AND NOT NEED ONE DAMN BALLOON ON A STICK. BALLOONS ON STICKS ARE STUPID. THEY'RE SILLY. WHO IN THEIR RIGHT MIND WOULD EVER BUY A BALLOON ON A STICK? WHAT A RIP-OFF. AND THEY DEFLATE LIKE SUPER FAST AND THEN THEY HAVE TO BE THROWN OUT. AND THEY'RE TERRIBLE FOR THE ENVIRONMENT, JUST TERRIBLE.
Okay, I'm over it. I think.
I'm not even going to post The Dotman's "Joke of the Day" today because it's nowhere near being funny. I can't believe the internet hasn't banned that jerk yet. They will, though. Mark my words.
BUT, I will post David Lynch's DAILY WEATHER REPORT!!!
Go to the
Lynch Website
and then click on "Daily Weather Report" in the bottom right corner. It takes a minute to load, but it's worth the wait. And then decide for yourself whether David Lynch does a better David Lynch or if The Dot does a better David Lynch.
A-HOLE STICK BALLOONS!!!!
Chris Dotson