I don't remember how it started exactly. I think I was eating sushi with my Sagittarian friend who fixes Macs and for whatever reason he brought up the old HBO series
Oz
. He said it was really intense or something.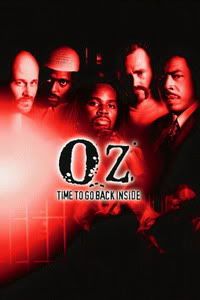 I'd heard of the show, which originally aired in 1997, but back in those years I was busy drinking alcohol and dealing with the resulting hangovers everyday. So I didn't have much time to watch HBO. Hell, I didn't even get around to watching PORNOGRAPHY until early 2000.
Sadly, you can't Netflix pornography (yet), but you can Netflix "Oz." So I decided to order Season 1 and next thing I knew I was ordering Season 2, Season 3, and so on, and then I just finished watching the final season (Season 6) yesterday.
After watching 54 hours of "Oz", I'm still not sure how I feel about it. If you've seen an episode or two, then you know that lots of people die on the show. I'd guess at least 3 prisoners get murdered every episode. There's also lots of rapes. And there's lots of cock, as well! More than you'd think! There must have been some clause in the actors' contracts that if you wanted to be on the show, you had to be willing to expose your penis a lot. Because all the actors did! One actor even pulled his butt cheeks apart and exposed his wide-open butt hole! (Are you kidding me???? I still can't get that image out of my head! Why 'Oz'???? WHY????)
Anyway, the good news is that I no longer have to watch 'Oz', because there aren't any episodes left for me to watch. So unless they come out with an "Oz Christmas Special" or something, I'm off the hook and can focus on pursuing my other goals.
Like going to the library!!!
It's true. I went to the library today. I know a guy who works there and he got me in for free. Didn't have to wait in line or anything!
I stayed there for about 110 minutes, reading my
Dave Eggers book
and keeping it real. Then at one point, a POLICE OFFICER came up to me and a few other library-goers and pointed out to us that we were sitting in the "kids section" of the library and that we weren't supposed to be sitting there unless we were kids ourselves or had kids.
Uh... okay.... so we moved. But couldn't a librarian have just told us that? Why did a police officer (with a gun and everything!) have to deliver that request?
But then I remembered, there isn't much in the way of crime in Los Angeles, so it's good that they give police officers little responsibilities like that because it makes them feel like they're contributing. Otherwise they'd just be sitting around twiddling their thumbs all day waiting for some crime to happen, and in a small town like L.A, that's just NOT gonna happen!!
ON THIS GREAT DAY, OCTOBER 22, 2007, DOTSON SALUTES THE FACT THAT HE NO LONGER HAS TO WATCH THE HBO SERIES 'OZ', BECAUSE DOTSON CAN ONLY PROCESS SO MANY IMAGES OF MURDER, RAPE, PENISES, AND WIDE-OPEN ASSHOLES AND BECAUSE DOTSON HAS OTHER GOALS IN LIFE, LIKE GOING TO THE LIBRARY AND BEING ASKED TO MOVE BY A POLICE OFFICER.
The Dotman of course had to put in his 2 cents about 'Oz', and if you haven't already seen his joke of the day (and judging by the number of hits The Dotman receives, you HAVEN'T), then feast your eyes on this----
Chris Dotson
Bad Jokes (And not in the good way.)