Oy. Remember how I wrote in my blog a while back that I was going to blog EVERY SINGLE DAY this year?
What the hell was I thinking?
I knew this day would pop up at some point where I'd have trouble finding something to salute and I wouldn't want to blog and feelings of inadequacy would overtake my body.
BUT, I will blog on. Because the point of my writing everyday, is simply that-- It's to get in the habit of writing everyday! Even on days when I don't feel like it. It's about being creative. I have to admit that I'm grateful to MySpace and to the internet in general that I can write something and (potentially) millions of people can read it! Well, in my case it's more like 8 people read it, but that's great, too. 8 is better than 7! But 7 is definitely NOT better than 6. 6 kicks 7's ass any time. I'd much rather have 6 of something than 7.
I'd also rather be playing the video game Double Dragon.
There. I just found something to salute. I'm going to salute
Double Dragon
.
When I was a kid, there was a time when this was the greatest arcade game out there.
Double Dragon looked like this--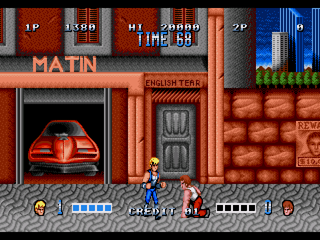 Pretty awesome, huh? Doesn't that totally look like a game you'd want to play? And those graphics! Back then, those graphics were considered state-of-the-art!
There were two "good guys" in Double Dragon and I believe their names were Stan and Chip. They looked like this--
My favorite part about playing Double Dragon was that you could pick up barrels and throw them at people. And my even favoriter part was that you could pick up a set of chains and beat people up with them. That was cool for me and my friends because every child dreams of being able to beat someone up with a set of steel chains. And Double Dragon made that dream a reality!!
The video game was so popular that they even made a cartoon out of it and also a movie!
I never did see the movie. It looked too complex for me at the time, like it would be over my head. But now that I'm older and have more wisdom, perhaps I'll Netflix it.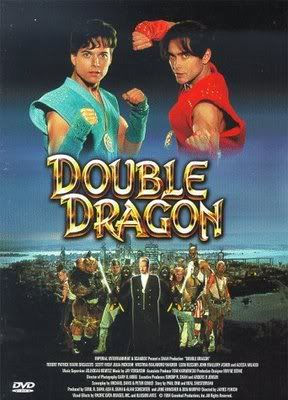 ON THIS GREAT DAY, JANUARY 23, 2008, DOTSON SALUTES THE ARCADE GAME DOUBLE DRAGON FOR FIRST OF ALL EXISTING BECAUSE OTHERWISE DOTSON WOULDN'T HAVE BEEN ABLE TO THINK OF ANYTHING TO SALUTE TODAY. DOTSON ALSO SALUTES DOUBLE DRAGON FOR BEING A GAME WHERE YOU COULD BEAT PEOPLE UP WITH CHAINS, WHICH IS EVERY CHILD'S DREAM, AND FOR SPAWNING A CARTOON SHOW AND A MOVIE.
I'm MySpace friends with
Deepak Chopra
(Who isn't, though?????) and this is what he had to say about Heath Ledger, via a MySpace Bulletin.
Dear All,
I knew Heath Ledger as a friend. He was particularly close to my good friend Shekhar Kapur who had directed him in the film "Four Feathers." Shekhar and I are in New York grieving the death of a beautiful soul with extraordinary talent. We wish him God speed on his onward journey.
Love,
Deepak
Chris Dotson
Dotman's Jokes