What it is!
We be all up in Capricorn 'n sh%t and this be the time of year I be listenin' to rap.
It's also the time of year where I search the internet for naked pictures of
Daniel Day Lewis
, (who will be referred to as DDL for the rest of the blog.)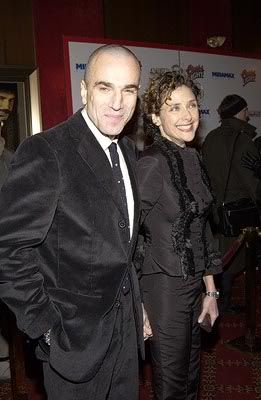 And once again this year I am disappointed by the COMPLETE LACK of Daniel Day Lewis pornography out there. I mean is it so much to ask for a picture of ONE DDL butt cheek?
I don't get this internet thing, man. I thought the internet was supposed to bring people together by their common interest in pornography. And to a certain extent it HAS worked, and it's been beautiful. But other times it's just too hit-or-miss with this stuff. I mean if I want a naked picture of Daniel Day Lewis in my living room or a topless shot of Wilfred Brimley, I should be able to get those things immediately!
(Well, I DID find a topless Brimley shot, so I guess things aren't really all that bad.)
But let me get back to DDL. He's one of the greatest actors who ever lived. And he's been given all kinds of awards for his acting abilities, but no one has ever mentioned his ass. And he has a GREAT one! Most people don't know this, though, thanks to some damn Christian conspiracy that doesn't allow shots of DDL's ass to be posted on the 'net.
For example, if you google DDL, these are the first three pictures that pop up---
The first shot if just a headshot. It's like "big deal."
The second one is at least topless.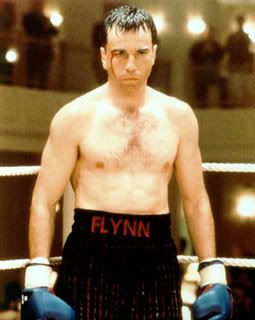 And the third is the one from
"King of New York"
, which featured a young Christopher Walken battling serpents in a cave.
But GOOD LUCK seeing DDL's ass in any of these shots. I mean, why post them at all? We know what the dude's face looks like. Who wants to look at a picture of someone's face?????
DDL himself finally spoke up on this complete lack of ass shots on the internet recently. Here's what he said---
"I am disappointed that my 25 years in public life have apparently not earned me the benefit of the doubt, but I understand that Senator Mitchell's report has raised many serious questions. I plan to publicly answer all of those questions at the appropriate time in the appropriate way. I only ask that in the meantime people not rush to judgment."
Okay, technically that quote was from professional liar Roger Clemens, who moonlights as a professional baseball player.
But you get the idea. DDL is in Queen Latifah mode!
HE'S HAD IT UP TO HERE!
In addition to having a great ass (that apparently no one is allowed to see because we live in the sexually-repressed United States of America and not some sexually-liberated country like Iran), DDL is an Academy Award Winner. He won the Best Actor Oscar in 1989 for the film "My Left Nut", beating out Tom Cruise for "Far and Away" and Kenneth Branagh (I deemed it "not worth it" to take the time to look up the proper spelling of K.B.'s name) for "The Gingerbread Man." Back in 1989, cameras were very small, and so were the images. Here's a picture of DDL with his award.
(Notice the complete lack of ass in this picture.)
(Also of note, if you google "i'd give my right nut," you get 38 hits, but if you google "i'd give my LEFT nut," you get 389 hits. That means that if given the choice, 10 TIMES as many men would rather part with their left nut than their right. I don't know what that means. But it seems noteworthy.)
But I guess it doesn't matter how many amazing performances DDL turns in-- It seems society will always view him as a remarkably talented actor, and not for the piece of ass that he truly is.
And then adding insult to injury, as I continued my fruitless search for DDL butt shots, I came across this. It's a picture from a movie called "A Room with a View", a film that every English major thinks is amazing.
Do you see what's going on here?????? There's DDL, but he's way in the back and you can't see ANY of his butt, and then right in front you've got Julian 'effin' Sands with some AMPLE right butt cheek action going on.
WHO THE HELL WANTS TO SEE THAT???
Unbelievable. "Room with a View" was directed by a dude named Merchant Ivory. This train wreck of a film had Julian Sands's ass ALL OVER IT and no butt shots of DDL anywhere.
There's a reason that Merchant Ivory sells used cars now instead of making movies.
What a putz.
Anyway, so that's where I'm at. Hope everyone's having a phenomenal New Year and that you're having sex with the person or persons that you want to have sex with. Otherwise, I hope your fantasies are doing the trick.
ON THIS GREAT DAY, JANUARY 7, 2008, DOTSON SALUTES DANIEL DAY LEWIS FOR HAVING A INCREDIBLE REAR END THAT DOESN'T GET ANYWHERE NEAR THE CREDIT IT DESERVES, FOR WINNING AN OSCAR FOR "MY LEFT NUT", AND FOR PERSEVERING IN A SOCIETY THAT VALUES INCREDIBLE ACTING SKILLS OVER ASS.
For once in my life,
The Dotman
and I are in agreement on something. That's kind of creepy to think about.
Also, this might be one of 9 blogs I post today. And that's not because I'm listening to rap.
Chris Dotson
Dotman's Genius Comedy Stylings