Hang onto your hats--- Dotson's in a spiritual mood!
I'm totally spiritual-ing it up!!!
Here's what happened--- I was doing yoga this morning in my living room and I was holding a pose and I happened to glance over to the right, and this is what I saw---
SIX PAIRS OF SHOES!!
(Technically there are four pairs of shoes, one pair of flip-flops, and one pair of slippers, but you know what I'm sayin'.)
And then I thought to myself, "DANG, MAN!! I'm like the luckiest man on the face of the earth!"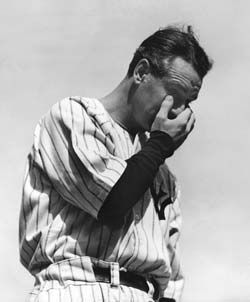 I continued with my yoga practice, and then when the yoga was over and I was lying there in "corpse pose" and sobbing uncontrollably for several minutes in gratitude for all of my wonderful friends and family, I thought to myself, "DUDE! I own even MORE shoes than the six pairs right there!"
And I ran into my hallway closet to look at the shoes I have in there---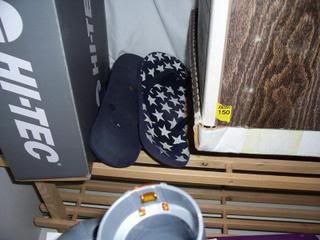 Look-- it's another pair of flip-flops!!
Then I went to my bedroom closet, opened it up, and saw this---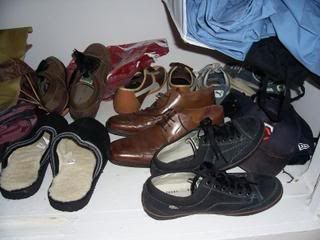 SIX more pairs of shoes!!
That makes 13 in all. Plus, THREE of those pairs of shoes were given to me last week for FREE!
Hot damn, I am a lucky S.O.B.
Then I went online and watched Traffic perform
"Low Spark of High-Heeled Boys"
because that is an awesome song to listen to when you're celebrating an abundance of footwear.
Also, I can't stop thinking about
Brad Renfro's death
. I don't know why that is. I only saw a couple of his movies and I never really followed his career, but I guess it just bums me out when people die so young.
I have absolutely no idea why I felt compelled to do this, but I printed out a picture of Renfro last night, taped it to a wall in my bathroom, and lit what I guess could be called some kind of "memorial candle."
Here it is---
Also, I dusted off my tarot deck and did a draw this morning. (I mentioned I was in a spiritual mood, right????) I asked the Tarot what my day was going to be like today and drew 3 cards.
Here's what I got---
So that means that today I'm first going to dress up like Tony Curtis from "Spartacus", grab a couple of chalices and toast a chick in front of some Mayan Ruins, then I'm going to encounter a giant naked chick with blonde hair who enjoys pouring water into ponds, and then I'm going to run into a forlorn-looking gentleman carrying a bunch of swords.
Sounds like a full day to me!!!
ON THIS GREAT DAY, JANUARY 21, 2008, DOTSON SALUTES THE FACT THAT HE OWNS OVER 6 PAIRS OF SHOES (13 PAIRS TO BE EXACT.)
DOTSON ALSO WANTS TO SALUTE BRAD RENFRO AND MENTION THAT HIS THOUGHTS ARE WITH RENFRO'S FRIENDS AND FAMILY RIGHT NOW.
AND DOTSON IS ALSO EXCITED ABOUT MEETING ALL OF THESE INTERESTING PEOPLE THAT THE TAROT PREDICTS HE WILL MEET TODAY BECAUSE DOTSON DOESN'T GET NEARLY ENOUGH OPPORTUNITIES TO PLAY "DRESS UP" IN "SPARTACUS" GARB AND DOTSON HAS NEVER MET A GIANT BLONDE PERSON BEFORE. HELL, DOTSON HASN'T EVER MET ANYONE WHO OWNS A BUNCH OF SWORDS BEFORE, EITHER!
We're in
Aquarius
, Motherf$*kers!!!
Chris Dotson
Dotman is not funny.