Today's salute goes out to
George "The Animal" Steele
.
Remember back in the day when wrestling was REAL? Before it became all fake and the outcome of the matches were predetermined?
I remember those days. I think about them all the time. More than I think about barley, even. And digital cameras.
George "The Animal" Steele was a REAL WRESTLER and he was awesome.
He had a green tongue!!!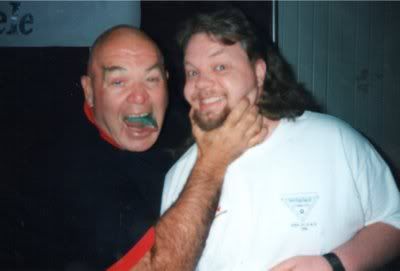 Question: What other wrestler, living or dead, ever had a GREEN tongue?
Answer: Nobody.
That's right. George "The Animal" Steele was an individual in a world of Hulk Hogan-wannabes.
In addition to having a green tongue, George "The Animal" Steele would eat the turnbuckles!
NO OTHER wrestler at that time was eating ANY portion of the ring. "The Animal" was definitely in a class of his own.
And on top of all his wrestling success, "The Animal" has a freakin'
MASTERS degree
from Central Michigan University. - --- Can I get an AMEN???
Who wants to see a video of "The Animal" wrestling?????
I DO!
It's right here--
And there's also a wonderful video of "The Animal" going to the zoo and interacting with the other animals. The conversation he has with the turtle is particularly heartwarming. I also like it when he says "Where next?"
That video is
right here.
"The Animal" eventually took a break from wrestling and headed to Hollywood where he appeared opposite John Depp in the movie "Ed Wood."
Here is a picture from the "massage scene" where "The Animal" utters the famous line "Do my toes."
(I love that line! I quote it all the time. I'll be having lunch with friends and I'll say "Guess who I am!" and then I'll say "Do my toes," but nobody ever guesses the movie. It's sucks. It sucks that we live in a world where a person can be at lunch with some friends and say "Luke, I am your father!" and everyone will immediately know what movie that person's quoting and then everyone shares a hearty laugh and then they all go home to their partners and have the greatest sex of their lives. But if a person says "Do my toes," it just becomes really quiet and awkward and his friends quietly wonder if it's even worth the trouble to continue to be this guy's friend because he's really not that funny to begin with and the movie quotes he throws out there actually take away from the conversations instead of enhancing them. And then everyone goes home and they're too busy wondering why their friend insists on being so weird all the time that they can't have sex at all, let alone have the greatest sex of their lives. And then they start painting. They start painting anything they can get their hands on, whether it be a canvas, or a wall, or a pencil, or their pet. It doesn't matter what the object is. They just feel compelled to paint it and they don't remember having all this paint on hand, but they do. The paint is there! And they have a spectrum of colors to choose from. They paint their bookshelf purple, then they paint their couch pink. Then they dip their jacket in a can of green paint. And they're making a total mess and they know they're never going to get their deposit back from the management company, but it doesn't matter because they are painting and soon they will be fixing themselves a salad, because dinner time is fast approaching.)
Sadly, "The Animal" didn't do anymore films after "Ed Wood." It's tragic because he was so DAMN GOOD in it. (Did I mention the "Do my toes" line??) Rumor has it that John Depp felt threatened by "The Animal's" extraordinary acting abilities and ordered everyone in Hollywood to never hire "The Animal" again for anything. That's sad. But there are two rules to remember in Hollywood.
1. Don't out-act John Depp
2. Don't be a communist. Especially in the 1950s. Because then there will be all these hearings and Ronald Reagan will preside over them and he'll eventually think to himself that he should consider a career in politics. And then he'll ultimately become President of the whole United States (and we remember how well that worked out the FIRST three times!) So don't be a communist because then Reagan will become president again. And he's not living anymore which will make it even more strange.
We can't afford that as Americans.
Hell, as Americans we can't even afford to buy GUM in CAIRO!!! I mean, have you seen the exchange rates lately??
I haven't. But if you see them, tell them Dotson says "hello."
ON THIS GREAT DAY, JANUARY 12, 2007, DOTSON SALUTES GEORGE "THE ANIMAL" STEELE FOR BEING ONE OF THE REAL WRESTLERS AND NOT ONE OF THE FAKE ONES, FOR HAVING A GREEN TONGUE, FOR EATING PARTS OF THE WRESTLING RING, FOR GETTING HIS MASTERS, FOR GOING TO THE ZOO, AND FOR SAYING THE LINE "DO MY TOES" IN "ED WOOD" AND OUT-ACTING JOHN DEPP.
I got a massage yesterday. I told the masseuse to "do my toes" and she did, but she didn't even laugh or anything because she didn't know I was quoting a movie. I guess I just wasn't made for these times. I feel like Brian Wilson.
I also "FEEL LIKE BREAKDANCING!!!"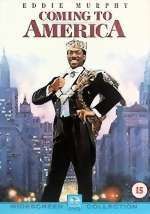 (I didn't have to actually post the "Coming to America" pic because you knew that line about breakdancing was from "Coming to America", right? You already knew that, yeah? God, I effin' hope you did. I don't want to be alone. I don't want to be the only person running around out there quoting John frickin' Amos from "Coming to America" and nobody knowing what I'm talking about. I don't want to do that. I don't want to paint, either. But I do like fixing salads when dinner time is fast approaching and I do like watching George "The Animal" Steele go to the zoo!!!)
HAPPY HANUKKAH, MY SONS!
Chris Dotson
Somewhat funny humor, but usually pretty shitty.