I'm on vacation!!!!
I'm in the desert kicking it at mom's winter getaway. My sister is here as well. And my stepfather. Last night a couple that my mom and stepdad know came over and all of us played Texas Hold 'Em. I came in 3rd because I rule. 3rd Place is the new 1st Place. I'd much rather finish 3rd than 1st. Everyone was envious of me, too. They all wanted to finish in 3rd Place and they knew it. They tried to bribe me with bratwurst and licorice in exchange for my 3rd Place title, but I was having nothing to do with it because---
THE DOT CAN NOT BE BOUGHT!!
I am currently sitting on my mother and stepdad's bed, stealing a wireless signal from one of their neighbors. I have to sit on the very edge of the bottom-right corner of the bed and then I get one single bar of a signal. That should be enough to get this blog off, though. I'm not doing pictures today, either. Like I said, I'm on vacation. And when I'm on vacation I don't do pictures. That's something you should know about me.
Anyway, the great thing about having a nice mom is that she cooks for you like all the time. Even when you don't want food! She's constantly making you food and shoving it in your face and it's really pretty amazing to think that although God threw you into this world without your choosing, at least he was cool enough to give you a nice mom who loves you unconditionally and gives you tons of free food.
And that's what my mom did for us this morning! She gave us tons of free food and shoved it in our faces!
For breakfast my mom made her famous "sugar-crusted muffins." Have you ever had one of these things? They're muffins with a sugar crust. They're delicious! (They're also referred to as "Thudpuckers" in my family because as legend goes, the very first time my mom tried making these muffins (This was like in 1977 or something) she burnt them and my Dad (They were still married at the time.) picked up one of the muffins and threw it at a wall and yelled "THUDPUCKER!" (It was like a spontaneous thing. He wasn't angry yelling. They were just having fun. They might have been high, too. Although I don't think my Dad ever smoked dope since he's mostly a Republican.))
In addition to the muffins, we had Jimmy Dean® Sausages!!! How cool is that? My stepfather cooked those suckers up all by himself. Then we also had scrambled eggs and fruit. The mixture of fruit my mom prepared consisted of bananas, strawberries, and little oranges. (I think they're called Tangerines.)
Damn, was that a feast! All that food before 10am even! I am one lucky S.O.B. No getting around it.
And for her next trick, my mother is going to hem up some pants I recently bought!
HOW DOES SHE DO IT?????
ON THIS GREAT DAY, JANUARY 27, 2008, A DAY WHEN DOTSON HAS ELECTED TO NOT POST ANY PICTURES ON HIS BLOG FOR THE FIRST TIME IN RECENT MEMORY, DOTSON SALUTES HIS MOTHER FOR COOKING UP AN INCREDIBLE BREAKFAST CONSISTING OF SUGAR-CRUSTED MUFFINS, EGGS, FRUIT, AND JIMMY DEAN SAUSAGES, ALTHOUGH TECHNICALLY DOTSON HAS TO ACKNOWLEDGE HIS STEPFATHER FOR BEING THE ONE TO PREPARE THE SAUSAGE.
I almost forgot to mention the 3 chocolate chip cookies I ate last night that my mom made. Oh, and this morning she gave me an ENTIRE TIN filled with peppermint cremes that she bought at the Cracker Barrel!
Oh, we GOTTA get a picture of this tin--- We just gotta!!!!!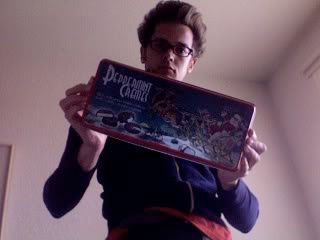 And we
GOTTA GO TO BEN'S
!!!!
So I guess this blog ended up having pictures after all. What a nice surprise!
Chris Dotson
Dotman's Jokes