I actually meant to salute these dudes yesterday, but I got so distracted by the fact that I own 13 pairs of shoes that I completely forgot to do it.
So here it is--
Today's salute goes out to the New York Football Giants.
The Giants look like this--
And if you are a fan of the New York Giants, your bed looks like this--
I myself am NOT a fan of the New York Giants. I am a fan of the Minnesota Vikings and therefore my bedroom looks like this---
So I'm sure you're not wondering to yourself why I'm saluting the Giants if I'm not a fan of the team.
Well, I'm even LESS of a fan of the Green Bay Packers! And what happened is that the Giants defeated the Packers on Sunday, ending the Packers season and catapulting the Giants into the Super Bowl!
This also means that for the first time since 2006, I can go to Super Bowl Parties!!!
I can't tell you how exciting this is for me.
See, as a Vikings fan, I don't like to socialize with fans of the Green Bay Packers or the Chicago Bears. Those are our rivals. (Technically the Detroit Lions are our rivals as well, but they haven't won a game since 1983, so their fans don't irritate me as much.)
And last year the Bears were in the Super Bowl, so that meant that if I wanted to go to a Super Bowl party last year, I would have had to interact with a bunch of creepy Bears fans.
EEEEEWWWWW!!!
So last year I stayed home and watched the Super Bowl by myself alone in the dark. I also cried twice.
And this year, it was looking like the Packers were going to go to the Super Bowl. I mean, the Giants had no business winning that game. But then Brent Farve, who has thrown more interceptions
than any other quarterback
in the history of football, threw another interception which set up the game-winning field goal for New York. And that's how they won.
After the game, Farve said, "I don't care that we lost, man. I just threw another interception, yo! That's awesome! My record is NEVER going to be broken! As near as I can tell, the people of Green Bay should be out in the street celebrating my interceptions record, because that belongs to them as much as it belongs to me. I couldn't have thrown all those interceptions over the years without their support."
So while Farve will be home celebrating his interceptions record, the New York Giants are going to the Super Bowl. And as soon as the game was over, I RSVPed for my friend Charley's awesome Super Bowl party. He does this party ever year. I wasn't sure if I'd be able to go this year because I thought for sure the Packers would be in the Super Bowl and I'd have to rub shoulders with their annoying fans. But I won't have to deal with annoying Packers fans, thank God! -- only annoying Giants and Patriots fans. But them I can handle.
When Jesse Ventura was Governor of Minnesota, he used to refer to Packers fans as "The Drunken Cowards."
Now that's the kind of leadership I look for in a governor!
I don't know if the Wisconsin Governor ever had an unflattering nickname for Minnesota Vikings fans. (Does Wisconsin even have a governor? That state is so weird, dude.)
But if I was the Governor of Wisconsin and had to come up with a name for Vikings fans, I would refer to them as this--
"The Holes they call Ass."
And I'd get re-elected every time!
(For the record, I of course don't think that Vikings fans are "holes they call ass." Vikings fans rule. Even the drunken ones rule. You see, Vikings fans don't drink because they're cowards and can't stand up for themselves without "liquid courage" like Packers fans. Vikings fans drink because they really, really like alcohol. And they never get hangovers, either. Vikings fans never get hangovers because they are real men! (And Women!))
ON THIS GREAT DAY, JANUARY 22, 2008, DOTSON SALUTES THE NEW YORK GIANTS FOR DEFEATING THE GREEN BAY PACKERS ON SUNDAY, THUS ENABLING DOTSON TO ONCE AGAIN ATTEND HIS FRIEND CHARLEY'S SUPER BOWL PARTY THIS YEAR BECAUSE DOTSON WON'T HAVE TO WORRY ABOUT BEING SURROUNDED BY DRUNKEN COWARDS (AKA "PACKERS FANS"), BECAUSE WHEN IT COMES TO ANNOYING FANS, DOTSON WOULD MUCH RATHER SOCIALIZE WITH GIANTS AND PATRIOTS FANS THAN BEARS OR PACKERS FANS.
This guy gets my vote for sexiest fan alive---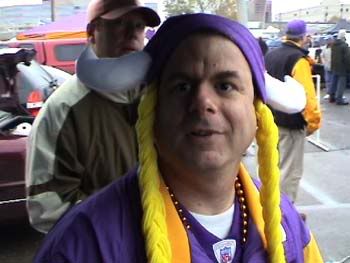 MEE-OW!!!
Chris Dotson
Dotman's Jokes