I am on the clock! I did an acting job yesterday and I'm going back for the second day of the shoot today at 4pm. I can not talk about this job. It's top secret. Yesterday they had me sign three (THREE!) confidentiality agreements. But I need to be back there this afternoon, which leaves precious little time for blogging.
Anyway, I almost took a studio apartment last week. I came THIS close. But ultimately I decided that I enjoyed the extra space I have at my current 1-bedroom apartment. The studio would have been much lower rent, was in a great neighborhood and had "some" off-street parking and so on, but I'm at home a lot and I'm the kind of guy who needs more than one room. Right now, I can get out of bed and walk into my living room and I feel like I did something with my day. But in the studio, I would have gotten out of bed and ALREADY been in my living room. So that feeling of accomplishment one gets after walking from one room to the next would have been lost.
In addition to that, however, I realized that the underlying problem was that I couldn't keep looking to external things to make me happy. Because when you do that, you're always going to be disappointed. And I was thinking this studio apartment would make me happier than my current place. But it wouldn't have. I can choose to be happy right where I am. I just have to look at things a little differently than I have been.
The other thing I learned about this "aborted move" is that I really f@%king hate beagles.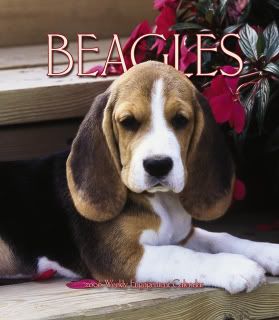 Beagles are the dicks of the dog world. Just the sight of them makes me angry.
Beagles totally think they're all that. You see 'em out there and they're all walking around and sniffing stuff and they have this look on their face like, "Yeah, that's right. I'm a beagle. What you gonna do? What you gonna do?"
Beagles infuriate me to no end. But I realized that moving into a studio apartment wasn't going to make my beagle rage go away. That's something I need to deal with internally.
And I am!
I just started going to "Beagle Anger Management" meetings. I had my first one last night. It turns out there are others out there just like me! In fact, at the first meeting alone, there were 497 people. 497 people!!! And they had to turn some folks away to avoid a fire hazard!
At the meeting, they gave us many facts as to why beagles suck so much. Turns out that 87% of beagles are named "Paprika" and that's the main reason for their dick behavior. Because as our "management leader" taught us, the word "paprika" sounds quite a bit like "pap smear" and what happens is that other dogs find out that the beagle's name is "Paprika" and they start taunting him and saying things like, "Hey, pap smear! You suck!" and we humans don't know all this is going on because they're speaking in dog.
I had no idea beagles had it so tough! No f#$kin' clue.
But I tell ya, if I'd moved to that studio, I wouldn't have been forced to look at myself in the mirror and gotten to the root of my anger. I'd still be pissed at beagles!
And to be honest, I don't think I'll ever truly be able to forgive beagles 100% for being such royal pricks, but at the very least, I can learn to loathe them less.
And that's what not moving is all about.
ON THIS GREAT DAY, JANUARY 14, 2008, DOTSON SALUTES NOT MOVING BECAUSE WHENEVER YOU MOVE IT'S BECAUSE YOU'RE RUNNING FROM YOURSELF, AND SPECIFICALLY YOU'RE RUNNING FROM THE FACT THAT YOU HATE BEAGLES AND NO MATTER HOW MUCH YOU CHANGE THINGS IN THE PHYSICAL WORLD, THAT LOATHING OF BEAGLES WILL ALWAYS BE THERE UNTIL YOU START GOING TO "BEAGLE ANGER MANAGEMENT" CLASSES AND THEN YOU'LL STILL THINK THAT BEAGLES SUCK QUITE A BIT, BUT YOU'LL BE MORE AT PEACE WITH THEM.
I had a gyro and french fries for lunch.
Chris Dotson
Dotman's Jokes