It was destiny. I was meant to have
tamarind
sorbet last night. I couldn't have avoided it if I wanted to.
What happened is that I went out for Indian food with my Taurus contractor friend and his Scorpio wife. The Scorpio wife had this awesome "VIP Card" at this particular Indian joint that entitled us to 15% off our entire bill. It was going to be a feast for the ages.
Thing is, we got to the Indian place and it was really busy. On top of that, there was no host to greet you in the lobby and nobody was taking names for the waiting list. That can not happen during Capricorn! Capricorn is all about order and structure, and if that breaks down at this time of the year, people get rather snippy. And that's what happened. There were a couple women waiting for tables who were exchanging catty remarks because they were arguing about who was there first. Their gentlemen partners kept out of it and had a "Just another amazing Saturday night for me" expression on their faces.
It was also really warm in the restaurant and Taurus contractor buddy hates being hot. So he kept ducking outside where it was cooler. At that point, his Scorpio wife and I grabbed a couple of menus and pretended to look at them so that we wouldn't have to make small talk with one another. At one point, his Scorpio wife pointed to a word on the menu and asked me what it was.
The word was this--
"Tamarind."
I told her it sounded really familiar but that I didn't know what it was.
Shortly after this tamarind exchange, the three of us decided to leave the Indian joint and go get a chicken sandwich at the cafe next door. So we did. And then we parted company.
But my night was only beginning!!!
My Capricorn screenwriter friend was having her birthday party at this hip restaurant/night club in the Hollywood area. She and I have several mutual friends, so there were plenty of people for me to talk to. I like going to parties where there are people to talk to. Those are my favorite kind!
I don't know what came over me, but it was going on midnight and I decided I could go for some dessert. So I asked to see the dessert menu.
I wish I hadn't.
Their dessert menu was WEIRD, dude. They had a cannoli, but it was peanut butter flavored. They had a pudding, but it was grapefruit (grapefruit!) flavored. Now if we were in Gemini or something, I might have been up for taking a chance on one of those suckers, but last night I just wanted something with no frills.
Then I saw the sorbet listed at the bottom of the menu. I asked the server what kind of sorbet they had and she told me it was "tamarind."
Tamarind!!!!
Just like at the Indian restaurant! It was as if God was speaking to me directly and he was saying "Get the tamarind, Dotson, and all the secrets of life will reveal themselves to you here tonight in this restaurant/night club!"
So I got the tamarind sorbet.
I could go into great detail as to how unpleasant it tasted, but I don't know that many words. So I'll just tell you that after that first bite of sorbet, I knew that it sucked.
MAN, it was terrible. Tamarind is wicked, wicked sour and I was terrified that there was no way I'd be able to finish it all. They gave me THREE scoops of that stuff!
My friends saw me wincing as I ate it and told me it couldn't be THAT bad. So I told them to have a bite. They did. And they pretty much started crying. My Sagittarian rocker friend had a bite and at first he thought it was okay, but then the aftertaste got to him and he scrunched up his face and shouted "it tastes like ASHTRAY!"
Lucky bastard. I WISH I only had to have one bite. But I had to have about 27 bites! Because that's how many bites it took me to choke that bad boy down. You see, I'm from Minnesota. And as Minnesotans we take great pride in our ability to finish off our servings of ice cream and sorbet, regardless of how disgusting they might be.
You want some pictures? We tried taking pictures last night, but it was too dark in that restaurant. So what I did was a found a picture of Tamarind sorbet online this morning.
This is it.
The sorbet I had last night looked very similar to this, except it didn't have any green leaves on it and there wasn't any mango. Also, there were three scoops of sorbet in my bowl instead of two.
And here is a drawing I made of myself eating the Tamarind sorbet. That thing on the left is a cat. That's why it's saying "meow." In actuality, there was no cat at the restaurant, but in my mind there were lots of cats at the restaurant. And most of them were gray and liked popsicles.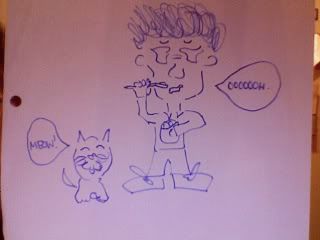 Eventually the server came back to take away my empty sorbet bowl. She asked me how it was and I gave her the "thumbs up" and told her "great!"
----
So that was my Saturday. Not the greatest Saturday of all-time, but I found a new appreciation for people who eat tamarind-flavored desserts. I had no idea what they were going through. I can truly empathize with these people now, and for that I am a much more enlightened, well-rounded person. I am grateful for that.
I am also grateful that this guy didn't knife me in the parking lot.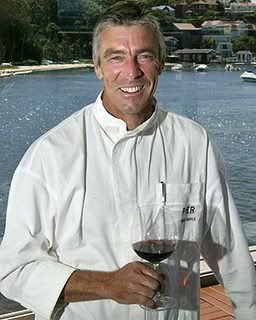 ON THIS GREAT DAY, JANUARY 13, 2008, DOTSON SALUTES PEOPLE WHO ORDER TAMARIND SORBET AND THEN FINISH IT BECAUSE THAT STUFF IS REALLY SOUR AND NOT SOMETHING YOU WANT TO EAT IN THE FIRST PLACE AND THEN THEY HAVE TO DIG DOWN REAL DEEP IN THEIR SOULS AND FIND THE COURAGE TO GO ON AND TAKE ANOTHER BITE AND THEN ANOTHER BITE AND THE WHOLE TIME THE SORBET JUST MAKES THEM MORE AND MORE NAUSEOUS, BUT THEY'RE FROM MINNESOTA AND THEY CAN'T NOT FINISH IT BECAUSE IT WOULD BRING SHAME TO THEIR STATE, SO THEY PERSEVERE, AND IF THEY'RE LUCKY, THEY DON'T GET KNIFED IN THE PARKING LOT.
Chris Dotson
Dotman's Jokes