Do you ever have dreams?
Me, too!
And last night I had a dream that I was reading a magazine article about professional golfer
Ron Daly
.
How exciting is that???!!!!
In the dream, Ron Daly was still a professional golfer, but he was also a wildly successful musician and in this magazine article, Ron Daly had the 4th best-selling album of all-time.
Seriously!
The list in the article went something like this:
1. "Thriller", by Michael Jackson
2. Some album by the band The Eagles
3. Some album by Garth Brooks. (You know that Garth Brooks album, right? I mean, I'm not saying you listened to it. I'm just saying you might recognize it if you saw it and say "Oh, yeah. THAT album!" If memory serves, on the album cover, Garth is wearing a black hat and has on a blue and black-striped shirt and the album is called "Roping in the Wind" or "Pissing in the Wind" or something like that.)
And then the 4th best-selling album of ALL-TIME was by Ron effin' Daly!!! I can't remember what kind of a musician he was in the dream, but I'm pretty sure it was country.
In reality, Ron Daly is not a country musician AND a professional golfer. He is only a professional golfer.
But that's still pretty good!!
Ron Daly is known for many things, including smoking cigarettes while golfing--
He's also known for
getting beat up
by his wife.
And most notably, he's known for winning the 1991 PGA Open!
This was a historic win not only from Ron Daly, but for white golfers everywhere!
At the time, Ron Daly was the only white golfer on the PGA tour. It's sad to think that even as recently as 1991, people viewed white golfers as "inferior" and went so far as to ban them from the tour.
But Daly's victory in 1991 changed everything! White people everywhere started taking up golf and heading to the courses.
Professional golfer Phil Mickelson says his career would be nothing without Ron Daly.
Says Mickelson---
"I was curious about golf from a very early age. But it was like, 'What's the point? I'm a white guy. They're not even going to allow me on a golf course, let alone permit me to buy a set of clubs.'"
But Daly's victory changed everything.
"After Ron's win," said Mickelson, "the PGA said to themselves 'Hey, maybe these white people CAN play golf' and next thing you knew, golf shops around the country were flooded with white people and white people started going to country clubs like you wouldn't believe. It was really a wonderful time to be alive!"
Mickelson denied having a "man crush" on Daly but did admit that he'd like to blow on Daly's belly with his mouth someday and try to make him laugh.
"I like making fart noises on people's stomachs with my mouth," said Mickelson.
AND WHO DOESN'T???????
ON THIS GREAT DAY, JANUARY 17, 2008, DOTSON SALUTES RON DALY FOR BEING IN MY DREAM LAST NIGHT, FOR HAVING RELEASED THE 4TH BEST-SELLING ALBUM OF ALL-TIME (IN MY DREAM ONLY), FOR BREAKING THE COLOR BARRIER IN GOLF AND ALLOWING WHITE PEOPLE EVERYWHERE TO TAKE UP THE GAME, FOR INFLUENCING PHIL MICKELSON TO BECOME A GOLFER, AND FOR HAVING AN AWESOME BUDDHA BELLY THAT NO MAN CAN RESIST PUTTING HIS LIPS ON.
Okay, this is Ron Daly with a Hooters® waitress. But they're definitely not at Hooters, right? It looks like they're in a trailer. I guess when your Ron Daly, you don't have to go to Hooters. Hooters COMES to you!
Also, I just noticed the picture of the chick in a G-string on the table. What the hell is going on here? Who took this picture?
MERV ALBERT
??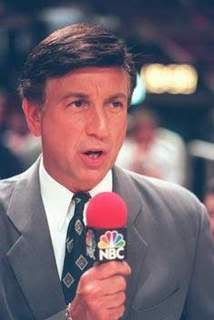 Chris Dotson
Dotman's Lame Jokes