I painted a bar stool today. It was an amazing experience. I bought the bar stool at IKEA a few weeks ago and I put it just inside the front door of my apartment so that when I come home I now have a place to set my keys. It didn't have any paint on it and I decided recently that I wanted to paint it so I did what people do when they want to paint something--
They go to the Home Depot and buy a quart of paint. Can't remember exactly what the paint was called, but it had "Bistro" in the name somewhere. Then I went to my Taurus contractor friend's studio and painted that sucker. I'm leaving it there overnight because I didn't want to put it in my car when it wasn't fully dry and potentially get red paint all over the interior of my car.
I am excited to pick up the bar stool tomorrow. This is going to kick some ass.
Also, has anyone else out there being feeling possessed lately?
I am currently drinking a chocolate shake from Jack in the Box. It is damn good.
ALSO, you know what is the most underrated song by the Rolling Stones?
I'll tell you-
It's "MIXED E-FUCKING-MOTIONS"!!!!
This song was off the
Steel Wheels Album
that came out in 1989.
The song is actually called "Mixed Emotions" and doesn't have the F-word in it. But it should. That whole song should contain nothing but F-bombs.
But despite the fact that "Mixed Emotions" does not contain a single F-bomb, it still manages to be an amazing song.
Of course it's not as good as the Stones classic work off such albums as "Beggars Banquet," "Let it Bleed," "Sticky Fingers" or "Exile on Main Street." But nothing will ever be that good again. NOTHING!!!
Still, "Mixed Emotions" is one awesome song.
How do I know it's so awesome???
Well, because I listen to it all the time.
And also at the writing of this blog, it's got 27,116 hits on YouTube. THAT is about as awesome as it gets, my friend!
I've always had this fantasy where I find myself at a karaoke bar and I'm going through the catalog of songs and I come across "Mixed Emotions" and I really want to sing it, but my friends (because in my fantasy I HAVE FRIENDS!!!) tell me not to do it because no one will know the song and even if they did, they'd say it was a shitty song by the Stones.
And I'm like, "Yeah, you guys are right." And then I look for another song, but then this guy taps me on the shoulder and I turn around and it's MICK JAGGER!!!
But it's not 2008 Mick Jagger or even 1966 Mick Jagger.
IT'S 1989 MICK JAGGER and he looks like this---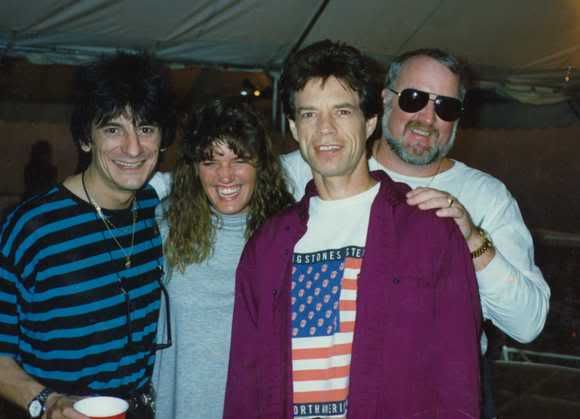 And he's got Ron Wood with him and a chick with a weird smile on her face, and some sketchy dude wearing sunglasses and Mick Jagger says to me, "Did I hear you say you want to sing 'Mixed Emotions'? What's up with that, dude? That song sucks."
And I say, "No, Mick. That song doesn't suck at all. That song rules."
But Mick is adamant that it's a lousy song and I spend the next 45 minutes of my fantasy convincing Mick Jagger that "Mixed Emotions" truly is a great song and is worthy of being sung at a karaoke bar.
Mick finally agrees with me but says he's just not in the mood to sing it, so he and I instead sing "Brown Sugar" and it is AWESOME!!!!
(Well, technically Mick sings "Brown Sugar", but he lets me stand on the karaoke stage with him and Ron Wood buys me THREE club sodas!!!!)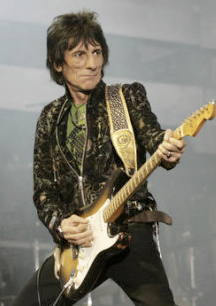 THREE!!!!!!
ON THIS GREAT DAY, JANUARY 30, 2008, DOTSON SALUTES THE ROLLING STONES SONG "MIXED EMOTIONS" FOR BEING A RARE GEM AND A KICK-ASS SONG THAT IS WORTHY OF BEING LISTENED TO AT LOUD VOLUMES AND IS ALSO WORTHY OF BEING SUNG AT A KARAOKE BAR EVEN IF NO ONE IN THE BAR KNOWS THE SONG AND THINKS IT'S STUPID BECAUSE MICK JAGGER WILL PROBABLY SHOW UP IF YOU WANT TO SING IT AND THEN HE'LL SING "BROWN SUGAR" INSTEAD, BUT YOU WON'T CARE BECAUSE IT'S MICK FRICKIN' JAGGER AND HE'S SINGING "BROWN SUGAR" LIVE AND RON WOOD WILL THEN BUY YOU THREE CLUB SODAS AND SHOW YOU HOW TO OPEN A BEER BOTTLE WITH YOUR PENIS.
As long as I'm confessing about secret songs that I love, I should tell you that my favorite solo Paul McCartney song is "Take It Away."
I don't know why that is.
But I love this song more than you love your own children.
(And just TRY to tell me that McCartney DOESN'T look like Judd Nelson at the beginning of this video. Just TRY. Because McCartney looks EXACTLY like Judd Nelson in that opening sequence and you know it. And there is no reason why McCartney should not have been cast in Nelson's role in "The Breakfast Club" except for the fact that director John Hughes was a notorious Rolling Stones fan who LOATHED The Beatles. So that's why Nelson got cast over McCartney. Ridiculous.)
I'm going to close now.
I'm going to close YOUR WIFE!!!!
OOOOOHHHHHHH!!!!
Chris Dotson
Dotman's Joke of the Day