Paper sucks.
You know it. I know it.
And paper needs to PAY!
Fortunately, we have shredders.
Shredders were invented by Tim Morrison in 1996. At the time, Morrison was the drummer for a struggling rock band called "The Doors." No one was buying their albums, though, and Morrison (or "T-Morse" as his bandmates called him) was looking for another source of income.
That was around the time that Morrison went and saw the movie "Fargo" and had an epiphany that would change all of our lives forever. (2nd "Fargo" reference in as many days. - REPRESENT!)
"Yeah," said Morrison, "I went and saw this movie and in the movie there was a dude who put another dude's body into this grinder machine and I thought to myself, if they can grind up humans, certainly there must be a way to grind up paper!"
Like 99% of humans, Morrison had always hated paper.
"Eff paper, dude. That stuff sucks. I don't like nothing more than sitting around and shredding a bunch of paper and listening to it scream. Forget sex, man. Forget money and drugs. All I want to do is f@k up as much paper as I can and sponsor my friends when they do AIDS bike rides."
Once Morrison invented the shredder and put it on the market, the letters came pouring in.
"I was getting letters from people all over the world. I had no idea that so many people hated paper as much as I did. It was unbelievable. One woman even sent me her cat."
What has Morrison done with the riches he's made from patenting the shredder?
"Watermelons, mostly. I buy assloads of watermelon," said Morrison.
ON THIS GREAT DAY, JANUARY 10, 2008, DOTSON SALUTES TIM MORRISON FOR INVENTING THE SHREDDER BECAUSE PAPER IS EVIL AND NEEDS TO PAY AND BECAUSE IF IT WASN'T FOR SHREDDERS, TIM MORRISON WOULDN'T HAVE GOTTEN THAT FREE CAT IN THE MAIL AND HE WOULDN'T BE ABLE TO BUY ASSLOADS OF WATERMELON. AND TIM MORRSION NEEDS WATERMELON. HE EFFIN' NEEDS THAT SHIT.
Have you given a piece of paper
the bird
today?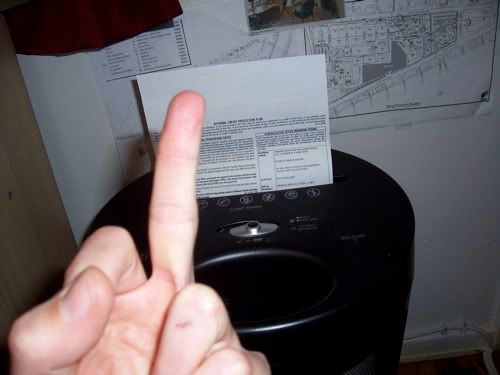 Eff paper, dude.
Eff it.
Chris Dotson
Dotman's Joke of the Day