There is nothing better than waking up in the morning and walking out into your hallway to discover the 2nd largest cockroach you have ever seen!
This thing was massive! In all my years, I'd only seen once roach bigger than it and that was back in 2002.
I was still half-asleep as I tried to figure out what to smash it with. I ended up using the back of a legal pad. It did the trick, but then of course the cardboard backing of the pad got dead cockroach jive all over it, so I had to rip off the backing and throw it away.
Now my legal pad looks like this---
I'm going to miss that cardboard backing. It's lucky for cockroaches that it's difficult to file lawsuits against them because if I hadn't killed that roach I totally would have sued it for damages. I would have got $500,000 for the emotional distress of seeing it in my apartment, and I would have got an addition $2.49 to pay for a new legal pad that didn't have dead cockroach all over it.
That said, you should cancel whatever plans you might have already made for this weekend and go see the
Trailer Park Boys Movie
.
Now, depending on where you live, it might be hard to see it because it might not be playing near you. But if you live in the Los Angeles area, it is definitely playing at a theater in Burbank starting tomorrow.
I'm sure some of you have seen
Trailer Park Boys the TV show
. It's set in a trailer park and is a comedy in the spirit of "The Office" or Topher Guest's movies. The show was shot in Canada, so I know plenty of people didn't watch it simply because of that. But let me tell you-- all kinds of funny comedians have come from Canada, including Bill Cosby and Bob Hope.
Last night they had the premiere of the Trailer Park Boys Movie in Los Angeles. My Gemini set dresser friend scored tickets and offered me one but I had to decline because Wednesday night is the night I play poker with seniors at a retirement home and I made the mistake of canceling on them once and they came to my house that night (There were 7 of them.) and caned me within an inch of my life and then they went on my computer and signed me up for every museum mailing list in North America.
And I wasn't about to let that happen again, so I passed on the premiere in favor of those hateful, museum-mailing-list-obsessed seniors.
But my set dresser friend went to the premiere and he met pretty much ALL of the Trailer Park Boys!!!!
Check this out--
Here he is with Cory of Cory and Trevor fame.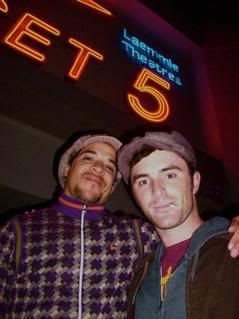 Here he is with Ricky and Julian--
And last but not least, here he is with
Bubbles
--
I can not begin to tell you how happy I am for my Gemini set dresser friend. Jesus Christ obviously likes him quite a bit to make him one of the "chosen ones." Not just anyone gets the opportunity to meet and then have their picture taken with the Trailer Park Boys. I guess my Gemini set dresser friend possesses more power than he lets on.
And in my book, his encounter with the Trailer Park Boys last night makes my Gemini set dresser friend the 4th most powerful person in Hollywood.
In fact, here's my list of the most powerful people in Hollywood right here---
1. Chuck Norris
2. Steven Spielberg
3. Jerry Bruckheimer
4. My Gemini set dresser friend
5. Tatyana Ali
And a very happy birthday to
Tatyana Ali
! May the coming year bring you all kinds of free cake and complimentary tire rotations!
ON THIS GREAT DAY, JANUARY 24, 2008, DOTSON SALUTES THE TRAILER PARK BOYS FOR HAVING A MOVIE THAT IS PLAYING IN THE UNITED STATES RIGHT NOW, FOR MAKING ONE OF THE FUNNIEST TV SHOWS OF ALL-TIME, AND FOR HANGING OUT WITH MY GEMINI SET DRESSER FRIEND AND ALLOWING HIM TO TAKE THEIR PICTURE WITH HIM NOT JUST BECAUSE JESUS CHRIST ADORES MY GEMINI SET DRESSER FRIEND AND THEY WANT TO BUDDY UP WITH MY FRIEND SO THEY'LL HAVE A BETTER CHANCE OF GETTING INTO HEAVEN, BUT BECAUSE THEY TRULY, TRULY WANTED TO TAKE THEIR PICTURE BECAUSE DOES ANYONE EVEN READ THIS PART AT THE END WHERE I DO THE CAPITALIZED SALUTE THING BECAUSE IF YOU DO THEN WHAT I'M WRITING ISN'T MAKING MUCH SENSE RIGHT NOW BUT GO SEE THE MOVIE, OR OTHERWISE RENT THE TV SHOW BECAUSE IT'S AWESOME.
Chris Dotson
The Dotman's Attempts at Humor