The Dot Train has been on the go all day. I got up early, talked to my dad on the phone for a bit, then I met a friend for yoga, then I met another pal for lunch. After that I drove across town for a commercial audition for some pizza company called... I can't remember... it started with a "D", I think. Now I need to change a light bulb in my hallway. Then I get to meet up with a few more friends and do an activity that has yet to be determined.
Despite all this racing around, I want to take the time to salute tuna fish for taking so long to go bad.
Here's a can of tuna fish right here---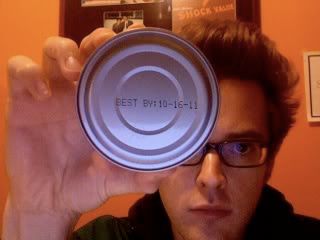 Check it out-- It doesn't expire for well over 3 years from now! Actually, it's good for another 3 years and 9 months. How rad is that?
That's the great thing about tuna. You can take your time to decide if you want to eat it or not. Other kinds of food, especially bread, seems to expire before I can eat it all. Then I feel guilty because I have to throw it out.
I still think they should make "half loaves" of bread or something for single dudes like myself. Who has time to eat all the bread that comes in a full loaf? I sure don't, and I keep a blog, so that means that I have more time than most people and if I can't get around to eating a whole loaf of bread before the expiration date, then something's wrong.
But there's nothing wrong with tuna fish. Any food that takes 3 years and 9 months to go bad is okay in my book.
Tuna fish rules.
Period.
End of story.
Stick a fork in it.
Over and out.
The end.
Sayonara, sucka!!
ON THIS GREAT DAY, JANUARY 25, 2008, DOTSON SALUTES TUNA FISH FOR TAKING SO LONG TO GO BAD, BECAUSE ALL FOOD SHOULD TAKE 3 YEARS AND 9 MONTHS TO GO BAD, ESPECIALLY BREAD BECAUSE WHO HAS TIME TO EAT A WHOLE LOAF OF BREAD IN ONE WEEK OR LESS, DUDE? BREAD SHOULD TOTALLY TAKE LONGER TO EXPIRE. THEY SHOULD ALSO HAVE A TUNA FISH-FLAVORED TOOTHPASTE. WHY DON'T THEY HAVE THAT? WHY? AND WHY COME FISH?
WHY COME FISH?????
Have a pleasant weekend, my sons.
Chris Dotson
Dotman's Awesome, Hilarious Jokes