Normally I'm not into watching movies that suck.
And I never really thought
"The Shawshank Redemption"
sucked. I thought it was a perfectly fine film. If I was a film critic back in 1994, I probably would have written that it was "gripping" and "a triumph" and that "Morgan Freeman has never been better."
But I watched it once back in 1994 and that was enough. I remember I watched it at this chick's house in Woodbury, Minnesota who I had a crush on. Sometimes I would invite myself over to her house and just hang out. And sometimes she wouldn't even BE there! I know, it was weird. But her mom LOVED me. And I only lived like 6 blocks away, so sometimes I'd just show up at the house, the mom would answer the door, and she'd be like, "Sorry Dotson, "Jessica (not her actual name) isn't home right now, but if you want a hot chocolate, you can come in and wait for her!"
And her mom would totally make me hot chocolate and give me any candy that happened to be around. This would have been really awesome if I was like 9 or something, but at the time this was going down, I was eighteen.
EIGHTEEN!!!
For the love of shit!
Thing is, "Jessica" would rarely come home when I was at her house. She'd rarely come home period. She was 17 going on 90, and was busy doing drugs and having sex with guys twice her age, and then ultimately deciding that she was a lesbian.
And I guess that's why her mom was always happy to see me--- because I didn't have sex with men twice my age and I was polite. Her mom always looked past the fact that I was semi-stalking her daughter and let me just hang out at the house. I think she liked the company.
I SMELL A JUDD APATOW MOVIE!!!
Anyway, it got to the point where I'd show up at the house with a couple of movies and watch them on their VCR. The mom never watched the movies with me and I'd just hang out in the living room, watch some flicks, and wait for "Jessica" to come home.
And it was on one of these days that I watched "The Shawshank Redemption" at Jessica's house without her actually being there. I remember thinking the movie was alright. I might have liked it more if Jessica had come home that night and watched it with me, but instead it was just me and her ferret on the couch (yes, they had a ferret), while her mom did a crossword puzzle in the kitchen and pretended not to be worried out of her mind as to where the hell Jessica was.
So as you can see, it was a rather stressful environment for me to be watching a movie and being able to be completely objective about what I was seeing. It would be like if Roger Ebert got molested by a bathroom attendant on his way to review "The Hot Chick."
There's no way Ebes would be able to maintain a detached, professional attitude while watching Rob Schneider dressed in drag. Ebes would be all like, "I can't believe I got molested by a bathroom attendant. I mean, HOW THE HELL does that happen???"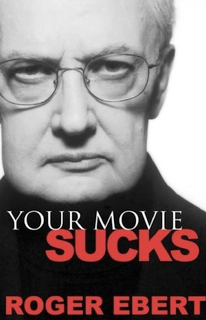 And I've felt like Roger Ebert in that respect for the past 13 years. Because I know TONS and TONS of people just effin' LOVE THE PISS out of "Shawshank." I mean it's the
2nd Best Movie of All-Time as voted on by IMDb users
(And you have to respect any "Greatest Films of All-Time List" that has "The Empire Strikes Back" at 7.)
There are all kinds of "Shawshank" websites out there like
this one
, and clips from the movie get buttloads of hits on YouTube.
There's a clip in particular on YouTube where Morgan Freeman basically goes to his parole hearing and tells everyone to eff off.
YouTube users LOVE this clip. Apparently all of these YouTube viewers plan on getting incarcerated for 40+ years and then when their parole hearing comes up when they're like 65, they're going to give the speech that Morgan Freeman gives and the parole people will be all like "Wow, that was AWESOME! You can totally go home now!!!"
Yup, this is the fantasy of these YouTube viewers. And I'M the weird one for hanging out at that chick's house in Woodbury, Minnesota back in the mid-90s?? I no think so.
I no think so!!
Anyway, did I mention yet that I watched "Shawshank" last night for the first time in 13 years?
Well, I did.
And here's why.
My Leo sister and her Taurus fiance gave me this book for Christmas called
"Now I Can Die in Peace"
At first I was like "Great--- a Boston Red Sox book. That poor, overlooked Boston Red Sox baseball team never gets ANY media attention. Wow. This is really exciting."
But then I started paging through it, and it turned out the book was really funny to me and I couldn't put it down.
The book was written by this dude named Bill Simmons, and if I had to guess, I would have to say that Bill Simmons might be 5 foot 10!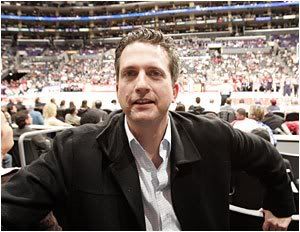 Bill Simmons is also affectionately known as
"The Sports Guy"
. He was a wildly popular column on espn.com and his wife is known as "The Sports Gal."
Here's what Bill Simmons accomplished with his book.
1. He made me like the Red Sox again.
2. He got me to watch "The Shawshank Redemption" again after 13 years.
Kudos to you, Sports Guy!!!
I mean, think about it--- when the Sports Guy set out to write this book, he must have been pulling his hair out thinking to himself "How the hell can I make Dotson like the Red Sox again and how can I get Dotson to watch "Shawshank" again??"
He also thought to himself, "I mean, I don't even KNOW Dotson. How the eff am I supposed to persuade him?" But then Bill Simmons took a deep breath, thanked Jesus for putting him on the planet to write books for me, and cranked out a kick-ass book that I plan on lending to my Taurus contractor friend who is a huge Red Sox fan himself and inexplicably hasn't read this book yet.
Now, HOW exactly did The Sports Guy get me to watch "Shawshank" again? Well, by referring to it in EVERY stinking paragraph in the book, yo! See what happened is that in real life The Boston Red Sox hadn't won a World Series in 496 years until they finally won one in 2004. Okay? And Simmons compared the suffering of Red Sox fans who followed losing teams all those years to the Tim Robbins character being locked up in Shawshank, and then when the Sox won the World Series in 2004, that was like when Tim Robbins broke out of prison.
You wit me?
And when Simmons wasn't writing about Shawshank, he was writing about his dad. A lot. He really likes his dad.
So one paragraph would be like "The Red Sox... blah, blah, blah... Shawshank... blah, blah, blah... my dad... blah, blah, blah... Shawshank... my dad...." and so on. (Don't get me wrong--- like I said, the book was entertaining. I enjoyed it!)
And then there was the passage in the book when he and his dad TOGETHER went to see a re-release of "SHAWSHANK" and chatted about THE RED SOX while waiting for the movie to start. I mean, you wanna talk about FUSION, let's talk about fusion because there is some serious fusion going on there!!"
(This is a picture of
Paul Maguire
. The Sports Guy and a few other blog readers will understand why I chose to post this picture here.)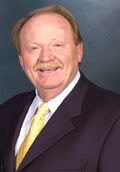 So last night I finished the Red Sox book and then decided I would Netflix "Shawshank" and give it another shot. Thing is, I was at girlfriend's place and I noticed that her roommate had a copy of "Shawshank" on VHS right there in the living room!
What luck!!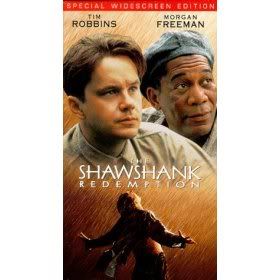 Not only would I not have to wait for the movie to arrive from Netflix on DVD, but I could watch it right now on VHS!!! (And although David Lynch would have preferred I watched "Shawshank" in an actual theater as opposed to watching it on a VHS tape, at least I didn't watch it
on my iPhone because that really would have set him off!!
)
At any rate, I watched the movie again. It's entertaining. In fact, the only gripe I had with the flick is that it spans like a 19-year period or something like that and none of the characters age very much it seems. It bothered me a little bit, but it really bothered girlfriend. She kept yelling at the TV screen things like--
"WHY AIN'T THEY AGING 'EM?"
"WHERE'S THE F$KING AGING IN THIS MOVIE?"
"WHAT IS THIS? ONE OF THOSE NON-AGING SHOWS?"
and
"HEY! THERE'S NO WAY THAT BIRD WOULD HAVE JUST STAYED IN THAT GUY'S POCKET!"
I'm going to close now.
ON THIS GREAT DAY, JANUARY 7, 2008, DOTSON SALUTES WATCHING "THE SHAWSHANK REDEMPTION" 13 YEARS AFTER YOU SAW IT FOR THE FIRST TIME BECAUSE IT'S BETTER THAN WATCHING IT BACK THEN BECAUSE YOU WERE A VERY CONFUSED 18 YEAR-OLD WHO WAS IN LOVE WITH A CHICK WHO DIDN'T REALLY KNOW THAT YOU EXISTED AND AT LEAST HER MOM WAS NICE TO YOU, BUT COME TO THINK ABOUT IT, SHE WAS PROBABLY WEIRDED OUT BY YOU AS WELL AND ONLY GAVE YOU HOT CHOCOLATE AND CANDY AND THE USE OF HER VCR BECAUSE SHE THOUGHT IF SHE ASKED YOU TO STOP COMING AROUND THAT YOU MIGHT GET VIOLENT OR SOMETHING.
Oh, and wouldn't you know it-- just a couple days ago my Gemini rocker friend
Jimmy Swan
randomly emailed me a pic of him jamming with Tim Robbins.
YOU WANNA TALK ABOUT FUSION????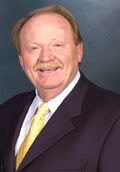 Chris Dotson
Dotman's Joke of the Day
(That's 2 blogs in the same day and there might be more on the way. Did I mention I'm Capricorn Rising?)