I received the greatest massage of my life yesterday.
And after I get a great massage, there's nothing I like more than going to a movie with my Leo architect friend.
So that's what I did!
I went to a movie with my Leo architect friend!
Now, this theater we went to has these "membership cards" and basically how the membership cards work is that every time you buy a ticket to a movie or get some snacks at the concession stand, they swipe your card and you accumulate points and the points can be redeemed at some point for...
Well, to be honest, I never really knew what the points could be used for.
BUT, last night at the theater what happened was that my friend and I were going to share a small popcorn and that was going to cost us $4.50. So I gave the guy at the counter my membership card and he swiped it and looked at his computer screen and said, "If you want, you can use 50 of your points and get a LARGE popcorn for only 50¢."
So my Leo friend and I of course we're like, "HELL, YEAH! WE'LL TAKE THAT LARGE POPCORN FOR 50¢!"
Then my friend turned to me and said, "I need to go to movies with you more often. You get the 'Burt Reynolds Treatment.'"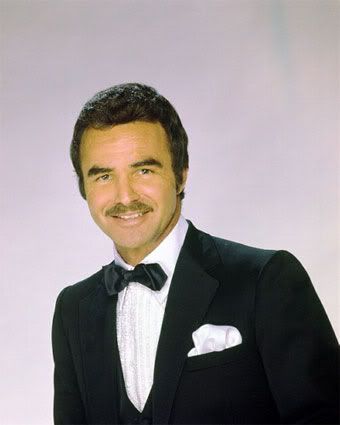 Huh! I'd never heard of the "Burt Reynolds Treatment" before, but apparently if you're Burt Reynolds, it means that wherever you go, everything costs 50¢!
So Burt Reynolds can go to any restaurant and eat a huge steak and it will only cost him 50¢. He can fill his car with gasoline and the gas station will only charge him 50¢. He can have sex with a prostitute and it will again cost him just 50¢.
And if Burt Reynolds wants to see a Morrisey concert, guess how much he's paying???
That's right. 50 effin' cents.
So I was thinking to myself it would be SO awesome to be Burt Reynolds and only have to pay 50¢ for everything, but then it dawned on me that since EVERYTHING would cost 50¢, I could no longer pick up the
LA Weekly
for free.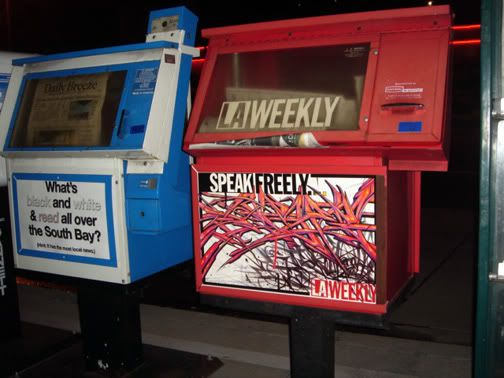 And who wants to pay 50¢ for the LA Weekly???
I know I don't.
So maybe being Burt Reynolds isn't all it's cracked up to be.
DAMN, THAT WAS A GREAT MASSAGE!!!!
ON THIS GREAT DAY, FEBRUARY 7, 2008, DOTSON SALUTES THE "BURT REYNOLDS TREATMENT" FOR BEING A MOSTLY AWESOME THING WHERE YOU GET TO BE TREATED LIKE BURT REYNOLDS AND ONLY BE CHARGED 50¢ FOR EVERYTHING YOU BUY, BUT THAT ALSO INCLUDES BEING CHARGED 50¢ FOR THE LA WEEKLY, AND IF YOU'RE NOT BURT REYNOLDS THEN YOU CAN GET THE LA WEEKLY FOR FREE, SO FOR MOST PEOPLE IT MAKES SENSE TO NOT RECEIVE THE BURT REYNOLDS TREATMENT AND SIMPLY CONTINUE TO GET THE LA WEEKLY FOR FREE, BUT EITHER WAY, YOU REALLY CAN'T GO WRONG.
I ate three Hebrew National hot dogs today.
THREE!!!!!!
Chris Dotson
Dotman's Joke of the Day