Have you ever heard of politics?
Me, either!!
At least, that was before yesterday. I learned all about politics yesterday. It was pretty cool.
Politics look like this---
As you can see, politics is all about setting up a white tent and then having people with signs gather around a barricade that is just outside the tent.
Many of the people there were holding signs featuring the likeness of a politician named Borat Obama.
And other people held signs in support of this politician chick named Hillary Clifton.
Sometimes the Obama people broke into a chant and started yelling "O-bam-a! O-bam-a! O-bam-a!"
I joined in, because we all know that chanting F#@KING RULES!!!
When everyone stopped chanting "Obama!", I tried to start a chant of my own. My chant went like this--
"Packers suck! Packers suck! Packers suck!"
Sadly, NOBODY (not even my buddy from Wisconsin who was there with me) joined me in my chant. And that's when I started to think that maybe politics was lame.
So I left the tent area and ventured out to Hollywood Boulevard to see what I could see.
AND I SAW ALL KINDS OF AWESOME PEOPLE!!!
ALL KINDS!!!
I saw The Hulk.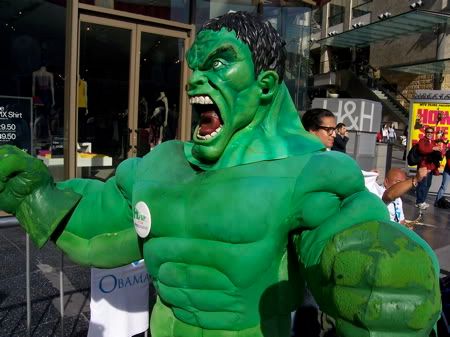 I saw Snoopy.
I saw Elvis.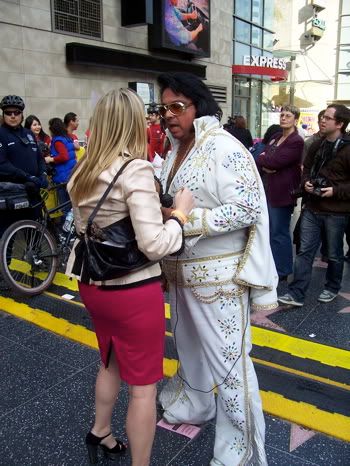 I even saw Jason.
That's when I started to think that politics was awesome again. I mean, would all these talented people like The Hulk and Jason really be wasting their time at a political event if politics weren't super important?
Highly unlikely.
And it was around this time that I saw an even more awesome person than all of the above people combined.
I saw
DAX SHEPARD!
How do I know it was him? Well, because I said "Hey, Dax!" and he turned around and then I said "Can I get a picture of your sign?" and he held his sign up and I took the picture.
So THAT'S how I know it was Dax Shepard so don't be trying to tell me somebody isn't Dax Shepard when they are Dax Shepard and what do you know since you weren't there anyway, dude. Don't be talkin' no Dax Shepard to me, cuz.
(Also, it should be noted that sometimes people like to keep their political views private, so we need to give Dax Shepard the benefit of the doubt here and I shouldn't say that it was "his" sign that he's holding in this picture, because that would suggest that perhaps he is voting for Obama and maybe Dax Shepard doesn't want everyone to know that. So for the sake of argument, let's just say that I tried to take his picture and maybe Dax Shepard hates having his picture taken so he grabbed the closest thing near him to block his face and it just happened to be this sign which may or may not be in his own handwriting. -- I only make this disclaimer because Dax Shepard acts in a lot of films that I could see myself acting in someday and I don't want to get cast in one of these movies and show up on the set for my scene with Dax Shepard and have Dax say to me, "Hey, you're the dick who posted that picture of me on your blog and now the whole effin' universe knows that I'm cool and that I support Obama and you know what else, Dotson? You're fired!!!" --- So that's why I'm making this disclaimer, because I don't want to be fired by Dax Shepard. Cool?)
I met all kinds of other people, too!
I met this guy--
His name was "Tiger" and he had this banner that read "IMPEACH" and he kept yelling "No more war candidates!" He just kept yelling it over and over again and he did it so much that his voice started to get hoarse. Then he disappeared for a while and I worried that he might have a terrible sore throat and I wondered if I should take up the "No more war candidates" chant in his honor, but then Tiger returned with a megaphone and started the chant anew. I was happy to see that. When it comes to chants, "No more war candidates" is an important one. I hope Tiger is somewhere chanting that right now. I would be delighted.
I kept walking down Hollywood Boulevard and that's when I stumbled upon one of the sickest acts of vandalism ever committed.
This is what I saw---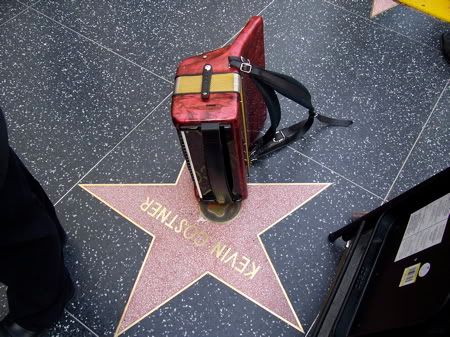 SOMEBODY PUT AN EFFIN' ACCORDION ON KEVIN COSTNER'S STAR!!!
WHAT THE DICK??????
I looked around for the culprit and saw a shirtless wonder with a black hat and glasses setting down his accordion box.
He looked like this--
I was about to give him what for, but I was distracted by the fact that he had shaved his chest hair into the shape of a heart. (I was going to take a picture of his chest, but even with my warped sense of humor I said to myself, "Do I REALLY need a picture of this dude's chest hair? Sadly, the answer was "no.")
Anyway, seeing the hairy heart on his chest made me feel compassion and I started talking to the guy. Turns out his name is Gabriel and he is from Sweden. He picked up his accordion and asked me if I had any requests. I told him I didn't. Then I gave him a dollar.
After the exchange with the Swedish accordion player, I kept walking down Hollywood Boulevard and had an even more peculiar exchange with a honest-to-God gypsy! She was totally a gypsy because she told me she was. I asked her if she was a Scorpio and she told me that she was a Cancer. I told her I never guess Cancer. She wanted me to sign some kind of petition. So I did. Then she told me I had to sign a Voter Registration Form. I told her I was already registered and didn't want to fill out another form because I thought that could screw things up. She told me "just do it" and I told her I didn't really want to. This went back and forth for several minutes and then I asked her if she got paid for this work or if she was a volunteer. She said she got paid. I asked her how much she got for each registration/protest signature she collected. She told me she got $5 per. I told her I would rather just give her the $5 instead of filling out another Voter Registration Form. She said fine. I only had a $20, so I asked her if she had change. She did not. She then suggested I just give her the $20. I ACTUALLY CONSIDERED IT and almost did give her $20, but my Wisconsin buddy (The Packers fan) talked me out of it. So I instead told the gypsy chick that I would buy a cookie and get change and bring her back $5.
So I did. The cookie was good. I got chocolate chip walnut and bought my Wisconsin friend a sugar cookie. And one of the $1 bills I got in change looked like this--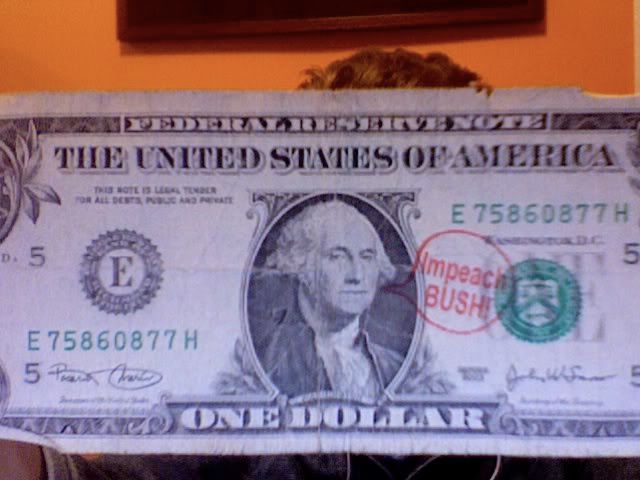 I brought the $5 to the gypsy girl and completed our transaction. I then asked her if she knew Rose McGowan. She said she did not. I told her, "
"It would be a lot cooler if you did.
"
After meeting all of these wonderful people, my Wisconsin buddy (He's a Leo, by the way) and I decided to hit the road, and that's when I spotted my politics-lovin' former roommate--
(As you can tell from her attire, she is a huge Fred Thompson supporter. I wanted to tell her that he dropped out of the race a while ago, but didn't want to break her heart.)
Anyway, so now you know what politics is!
ON THIS GREAT DAY, FEBRUARY 1, 2008, DOTSON SALUTES POLITICS FOR HAVING WHITE TENTS AND BARRICADES AND PEOPLE HOLDING SIGNS AND FOR BEING A GREAT WAY TO MEET AWESOME PEOPLE LIKE THE HULK AND JASON AND DAX SHEPARD AND SWEDISH ACCORDION PLAYERS AND GYPSY VOTER REGISTRATION/PROTEST SIGNATURE-COLLECTORS AND FOR PROVIDING A WONDERFUL PLACE TO RUN INTO YOUR FORMER ROOMMATE WHO IS A HUGE FRED THOMPSON SUPPORTER.
All of this entertainment for only $6!!! ($1 to the accordion player and $5 to the gypsy. And actually the 2 cookies cost $2.70, so all of the entertainment was $8.70, which is still pretty good, but not as good a value as $6. But then last night I got to go to a movie screening with a friend for free, and normally a movie in L.A. will cost you about $12.50, so if you subtract $12.50 from $8.70, you get -$3.80. So in other words, I MADE money yesterday. That's rad! No wonder so many people love politics!!)
NO WONDER!!!!!!!!!!!!!
Chris Dotson
Dotman's Wonderful, Wonderful Jokes