Didn't sleep so hot last night. I went to a Piscean housewarming party, and then we went out to a bar and didn't leave until the bar was closing!
It was such an exciting night, that I was still wired when I tried to go to bed and didn't fall asleep until 3:30am.
THEN I woke up at 7am and I was totally wide awake!
That was only 3.5 hours of sleep, down from my usual 12-13 hours of sleep per night.
I thought to myself, "Man, what am I going to do at 7am on a Sunday morning?
Then I remembered that I had recently borrowed a DVD of
"Fight Club"
from my Sagittarian friend who fixes Macs.
So I figured, "What the eff? Let's watch this sucker!"
Thoughts on "Fight Club" --
1. When I become a parent (preferably a father), I'm not going to let my kids watch Disney movies. They are going to grow up watching "Fight Club" and
"The Dead Zone"
only.
I don't want that Disney crap rotting my children's brains. And if they say "But father, we want to watch 'Bambi 8'," I'm gonna be all like, "You don't get to watch 'Bambi 8.' You know the rules. Either watch "Fight Club" or "The Dead Zone" or else you can go to your room and just FORGET ABOUT having cookies for breakfast tomorrow. You'll get pancakes and Snickers and you will like it!"
(I am going to be an AWESOME dad.)
2. As far as "Father/Son Role Reversal" Movies go, I felt "Fight Club" was a terrible failure. I did not buy that Brad Pitt was Ed Norton's dad for one second. In fact, after watching the film, I IMDBed Brad Pitt and Ed Norton and it turns out Brad Pitt is only SIX YEARS older than Ed Norton. Six! I'm sorry, but if we really were supposed to believe that Brad Pitt was Norton's father, they could have at least used makeup to age him a little. In the meantime, when I get a hunger for a little father/son role reversal action, I'm going to stick to the classics of the genre, like The "Pinocchio" remake starring Martin Landau.
3. I was going to write something about Helena Bonham Carter, but my frozen pizza is almost ready, so I need to tend to that. In lieu of writing about Helena Bonham Carter, I will instead post this random group photo--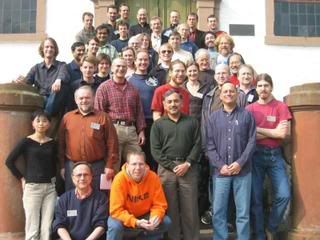 ON THIS GREAT DAY, FEBRUARY 3, 2008, DOTSON SALUTES THE FILM "FIGHT CLUB" FOR BEING A GREAT MOVIE TO WATCH WHEN YOU WAKE UP AT 7AM ON A SUNDAY MORNING AFTER GETTING ONLY 3.5 HOURS OF SLEEP THE NIGHT BEFORE BECAUSE YOU WENT TO A PISCEAN HOUSEWARMING PARTY AND THEN TO A BAR, FOR BEING A GREAT KIDS MOVIE THAT MY CHILDREN WILL WATCH AT LEAST 2 DOZEN TIMES BEFORE THE AGE OF 9, AND FOR STILL BEING ENTERTAINING DESPITE THE FACT THAT IT'S NOT AS GOOD AS "PINOCCHIO" WITH MARTIN LANDAU WHEN IT COMES TO FATHER/SON ROLE REVERSAL THEMES.
I'm going to a Super Bowl Party in a couple of hours and I'm told there's going to be a TENT there!!!
It's going to be The Democratic National Debate all over again!
Can't hardly wait!!!!
Chris Dotson
Dotman's Jokes