Do you ever have random thoughts pop in you head?
So do I!
And today when I was walking home from an incredibly intense workout, I remembered this one time I was watching
Entertainment Tonight
and they were interviewing
Gabrielle Carteris
of "Beverly Hills, 90210" fame.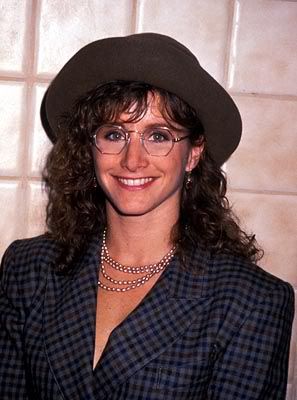 The Entertainment Tonight interviewer was really grilling Carteris and asking her "straight-to-the-point" questions, such as "What's your favorite color?" and "What's your love life like?"
Carteris declined to answer the favorite color question without her attorney present (Smart girl!), but she did talk about her love life. Or, I should say, she talked about her LACK of a love life. You see, at the time, Carteris said it was hard for her to get a date because she said that guys would always say to her, "Gabrielle, you're the kind of woman I would want to marry. And I don't want to get married right now."
Or they said something like that. Basically these dudes in their early 20s were saying that she was primo wife material but they just weren't ready to settle down yet.
This interview must have taken place in 1990 or somewhere around there. And for the past 18 years, I've been periodically wondering if Gabrielle Carteris ever did get a date.
Well, today when I got home and once again started wondering how Carteris was doing in the love department, I decided that TODAY WOULD BE THE DAY that I went on the world wide web to see if she was romantically involved.
And I am incredibly happy to report that according to the
International Movie Database
, Gabrielle Carteris indeed did get married and is STILL married and has two children.
I also learned from IMDb that Gabrielle Carteris also studied mime!
(I wonder if she knows
Dana Carvey
?)
ON THIS GREAT DAY, FEBRUARY 6, 2008, DOTSON SALUTES GABRIELLE CARTERIS FOR NOT GETTING DOWN BECAUSE SHE COULDN'T GET A DATE BECAUSE DUDES WOULD TELL HER THAT THEY COULD SEE THEMSELVES MARRYING HER AND THEY JUST DIDN'T FEEL LIKE GETTING MARRIED AT THE TIME AND FOR EVENTUALLY LANDING A DATE, AT LEAST PRESUMABLY SHE HAD A FEW DATES BEFORE SHE GOT MARRIED, OTHERWISE IF SHE GOT MARRIED ON HER VERY FIRST DATE I GUESS THAT WOULDN'T REALLY COUNT AS A DATE, THAT WOULD COUNT AS A WEDDING AND THAT WOULD MEAN THAT SHE STILL NEVER GOT A GODDAMN DATE AND WHAT THE HELL, MAN? I TOTALLY WOULD HAVE DATED HER BACK THEN. I'D STILL DATE HER TODAY. AND HER HUSBAND AND KIDS COULD COME ON THE DATE AS WELL. IT WOULD BE FUN. PERHAPS WE WOULD BOWL.
Chris Dotson
Dotman's Hopelessly Misguided Joke of the Day