(WARNING: This blog contains MASSIVE PHOTOS of Ethan Coen.)
Remember how yesterday I mentioned that I was doing an Oscars the Grouch Pool?
Well, I ended up winning!
I walked away with $3, and I'll pretty much never have to work again a day in my life.
I am stoked.
The $3 looks like this---
In our pool, we did "weighted scoring," so in each category, you assigned 5 points to the person you thought would win the most, 4 points if you thought they were 2nd best, 3 if 3rd best and so on.
So the final scores of our Oscars the Grouch pool was this--
Me - 95 points
My Taurus Friend - 87
His Scorpio Wife - 82
Their Aquarius Pug - 0
Personally, I think the Aquarius pug could have picked a few right if she'd applied herself, but she was too busy trying to get people to scratch her belly. And I'm happy to report that she had much success in that department!
Anywhere, if you didn't watch Oscars the Grouch last night, you weren't alone. According to
variety.com
, last night was the least-watched Oscars the Grouch of all-time!
IT WAS HISTORIC!
So those of us who watched it were a part of history! But don't be sad if you didn't watch it because hopefully down the road there will be another Oscars the Grouch that will be even less-watched and then you can be a part of THAT history.
KEEP HOPE ALIVE!!!
Two other things of note---
1. When Owen Wilson came out to present whatever award he presented, HE WASN'T FUNNY! I was looking for something, anything! A smirk! A wink! An aside of some sort! But none were forthcoming. Owen Wilson wasn't funny at all. And now I'm totally worried about him. I hope he's doing okay. I just don't understand how somebody from Texas could possibly suffer from depression.
2. Ethan Coen sure grabbed his ear a lot!
Here's a MASSIVE, low-quality photo of Ethan Coen grabbing his ear right here--
And here's another MASSIVE, low-quality photo of Ethan Coen grabbing his ear right here--
And this was my FAVORITE MOMENT OF THE WHOLE EVENING right here--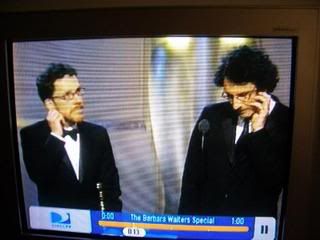 In an act of brotherly solidarity, Joel Coen grabbed his ear along with Ethan. What better way to say, "I love you, brother," than to grab your own ear when your younger brother is grabbing HIS ear?
I know most people love those Oscar speeches where the actors gush and cry and thank God and stuff, but in my book, it's those subtle, ear-grabbing, "I love you, younger brother" moments that bring a tear to my eye.
And that's what I did last night. I cried myself to sleep. But I didn't cry myself to sleep because I was sad. See, I won that $3 in the Oscars the Grouch pool, and since I don't need to really work anymore, I need to come up with other activities to fill in the time when I'd normally be at a job. And I feel that crying and sleeping are two very good things to do instead of having a career.
So I say to any of you out there who might be unemployed, "SCREW CAREERBUILDER.COM AND GET BUSY SLEEPING AND CRYING!!!"
Words of wisdom, Lloyd, my man. Words of wisdom.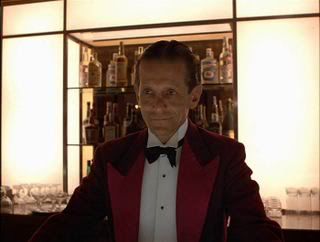 ON THIS GREAT DAY, FEBRUARY 25, 2008, DOTSON SALUTES OSCARS THE GROUCH BECAUSE YOU GET TO HAVE AN OSCARS THE GROUCH POOL WITH TWO OF YOUR FRIENDS AND THEIR DOG AND WIN $3 AND NEVER NEED TO HAVE TO WORK AGAIN A DAY IN YOUR LIFE, AND BECAUSE IF IT'S THE LOWEST-RATED OSCARS THE GROUCH OF ALL-TIME, THEN YOU GET TO BE A PART OF HISTORY AND BECAUSE OWEN WILSON WON'T BE FUNNY AND ASSURE US THAT HE'S DOING BETTER AND BECAUSE ETHAN COEN GRABS HIS EAR A LOT WHEN HE'S AWARDED OSCARS THE GROUCH AND BECAUSE HIS BROTHER, JOEL, SHOWS HIS LOVE FOR HIS BROTHER BY GRABBING HIS EAR AS WELL.
Anyone want to hear a hopelessly misguided joke about the movie "Rain Man?"
Dotman's got you covered.
Chris Dotson
Dotman's Joke of the Day