Have you ever seen a 19-pound cat?
LIAR!!!!
Sorry about that. I just ate an ass load of plantains, and that always tends to make me a little wacky.
Check it out-- girlfriend recently agreed to cat-sit for this friend of a friend and this chick owns two cats. One of the cats is totally normal and the other cat is 19 POUNDS! I'm telling you, that's massive!
This is a picture of the 19-pound cat. And to be honest, this picture doesn't really do him justice. You see this cat in a photo, you're all like "Big deal! Whatever!" But if you see this cat in person, you'd be all like "Wow! Big!"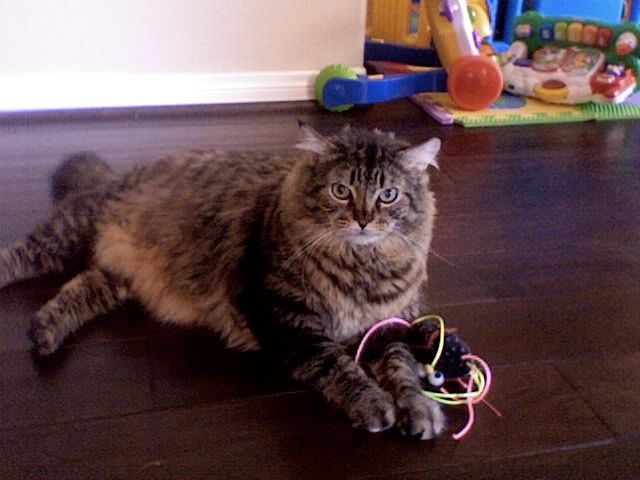 From what I understand, the cat's name is Biscuit. But I prefer to call him "Milford", because I feel that's a more appropriate name for him.
And when I'm not calling him Milford, I can be found calling him "Impatient Chubbers."
I call him Impatient Chubbers because whenever I come over, he immediately goes to the cupboard where his owners keep the cat food, and starts meowing like an S.O.B.
Here's a picture of Impatient Chubbers next to the cupboard---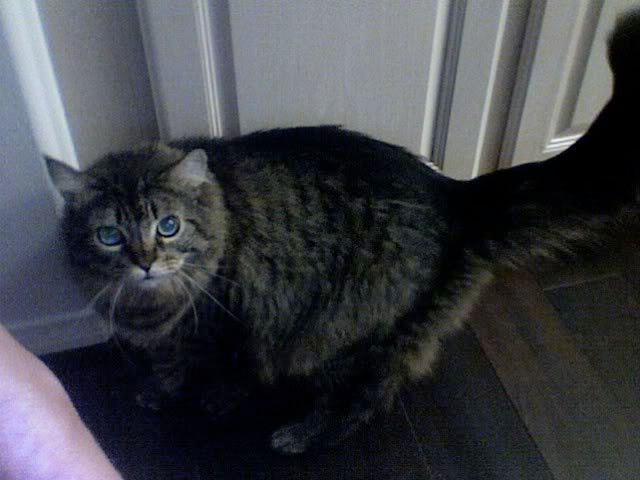 And still other times when I'm not calling Biscuit either Milford OR Impatient Chubbers, I call him Ken.
You might be wondering why I'm spending so much time with Ken since it's girlfriend who's supposed to be cat-sitting. Well, girlfriend got called out of town on "business", so that means I'm taking care of Impatient Chubbers all by myself for the next 3 days!!!
Per Ken's mother's instructions, it's okay to give him treats, but we're supposed to make him "run a little for his treat." I guess that's their way of getting Ken at least a little exercise. So, in order to get him to run, I throw the treat down the hall and he chases after it.
Here's a picture of Ken running after his treat right now---
And after Impatient Chubbers has eaten his food and run for his treats, he likes to lie on his back. Here's what Ken looks like when he's all sprawled out.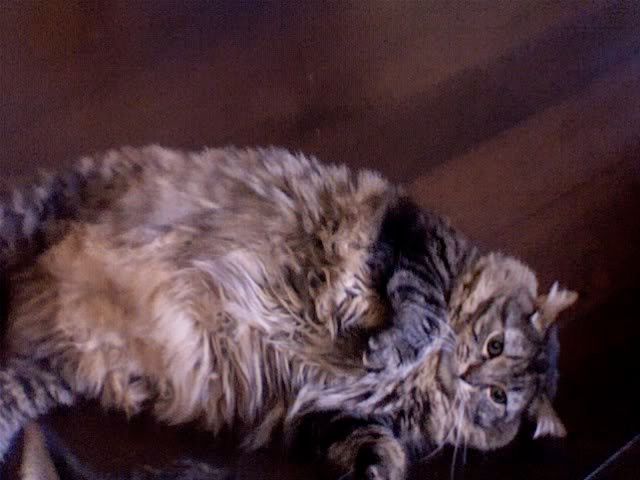 The other kitty is Ken's sister and her name is "Honey Lamb" or something. Apparently I deamed her "non-photo-worthy" because I didn't take any pictures of her. She's pretty cool, though. Wouldn't kick HER out of bed!!!
ON THIS GREAT DAY, DOTSON SALUTES 19-POUND CATS FOR BEING MASSIVE, FOR BEING MORE IMPRESSIVE IN PERSON THAN IN A PHOTO, FOR BEING IMPATIENT ABOUT GETTING FOOD, FOR HAVING TO RUN DOWN A HALL FOR THEIR TREATS, AND FOR LYING ON THEIR BACK AFTER ALL THAT EATING AND WHAT NOT.
I showed Impatient Chubbers my Libra blog from yesterday and he called it "witty" and "insightful."
He also called it a "tour de force."
The other cat called the Libra blog "a triumph."
They're great cats, just great f@#king cats.
Chris Dotson
Click here for free terrible jokes!